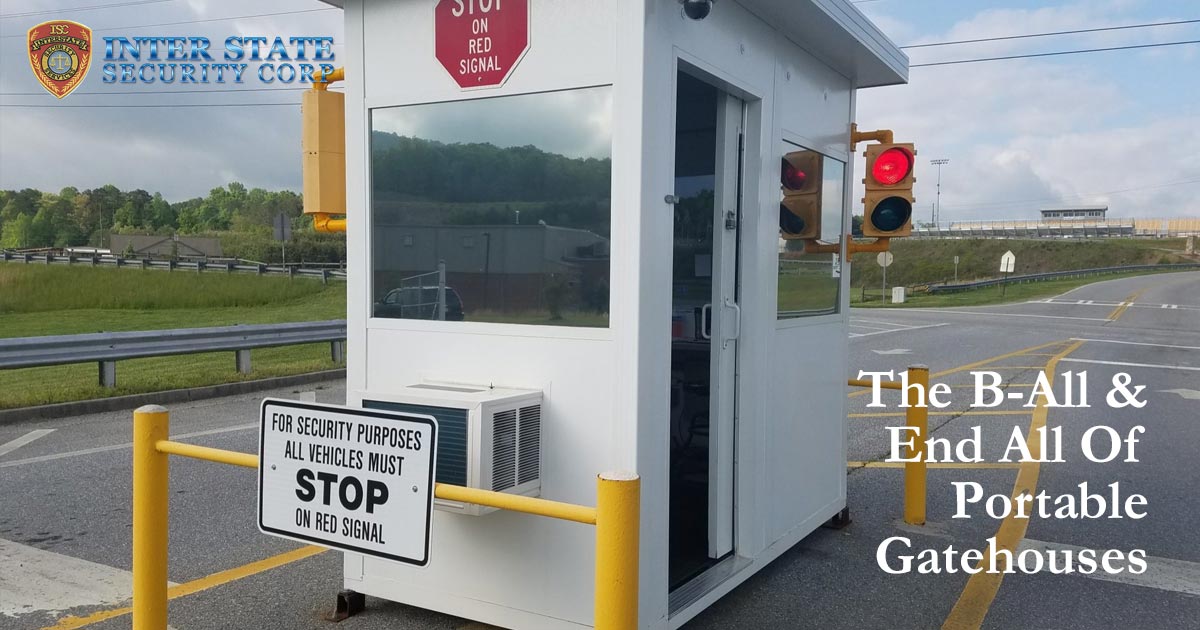 Portable gatehouses can best be described through the following features:
Ideally constructed for temporary, interim, as well as permanent use.
Take up less space than permanent structures.
Are ready to use, no assembly needed.
Our portable gatehouses are also fitted with electric points and air-conditioning. This makes them readily suitable for any extra security equipment to be installed and for guards to be comfortable.
The Upside to Portable Gatehouses
Portable gatehouses are structures that can be put up easily and affordably for temporary or even permanent use as a point of access control. They are simpler than prefabricated structures, making them a viable alternative for those who may not need the permanence or do not have the space for something more formal.
Who Would Use Portable Gatehouses?
These fit the needs of construction companies that need their own security measures, but cannot have them permanently fixed anywhere. The same goes for event and function companies that also have businesses that are in many ways mobile.
They are a great alternative for businesses that tend to have a once off need, or do not need to invest in permanent structures. They are fitted with air conditioning and electrical points already, making them suited to temporary needs as well as permanent needs for smaller spaces or less obtrusive control points.
What Makes Them an Ideal Security Measure?
Portable gatehouses are a great option for security needs because there are options for different materials and come ready – no construction on site needed.
Add-Ons

These structures give rise to many more security options, such as having computers that control access and guards on duty. Any further security measure or security equipment, all of which we can provide, can be safely housed in or controlled from a portable gatehouse.

Once-Off Or Regular Uses

Often spaces are used for a purpose outside of what they are usually used for – we are talking about things like towns hosting festivals and closing off streets or parking lots, which lead to higher traffic in a different way than usual as well. Such events really benefit from our well-kitted portable gatehouses. For annual festivals, a ready and personalized order can be in place.

Special Circumstances

Residential and even commercial areas that are going through periods of development make excellent use of these as well. This is because development happening around you brings unknown faces and movement of people, as well as higher traffic and this leads to less certainty in the regular measures. Portable gatehouses can be installed to control access for the duration of this development and then be easily removed without any long term commitment or expense involved for residents or landlords.

Addition of Human Point of Contact

Having a guard housed in a portable gatehouse also provides that human intuition and reaction under times of need, aside from other points of access methods. Most other methods would need some sort of gatehouse or housing component as well.

Impact on Costs

As an additional thought it may be useful to check how your levies and insurance are impacted by the addition of certain security measures, especially if you are an institution like a church that has special exemptions, being linked to municipalities.
Examples of Specific Location Based Uses
Holiday rentals
Construction sites
Events or functions
Residences
Parking lots
Aside from needing portable gatehouses for temporary solutions, they are a great way to try out the method before building and fitting the cost of a permanent structure. This also facilitates finding the exact spot for it and size as you kit out the portable structure with equipment. If you have been contemplating security measures and are not sure where to start, Inter State Security is happy to guide you on whether and why a portable gatehouse might be a good place to start.
Image credits: www.panelbuilt.com