Marked Patrol Services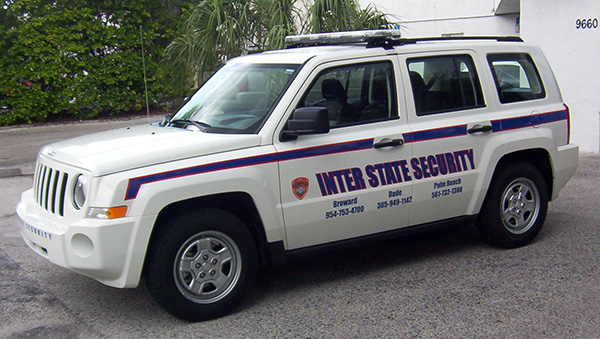 Inter State Security offers marked patrol services to monitor your property using conspicuous roving vehicles and trained uniformed security officers. Inter State patrols make use of the highly acclaimed SOS management system.
Why Hire A Marked Patrol Service?
Marked patrols monitor your property for any signs of disturbances, from petty nuisances such as illegally parked vehicles and speeders to more serious crimes like vandalism and break-ins. Hiring a marked patrol service on your property will lower your probability of falling victim to crime.
Highly Visible Presence
Our marked patrol service offers a highly visible security presence that can be seen from a great distance. Our vehicles are equipped with bright yellow and green overhead lights, clear markings, and radios. They are manned by unarmed uniformed security officers who have experience in conflict management.
Effective Crime Deterrent
A marked patrol vehicle on your property or at your event is a visual deterrent for crime that is unequaled. Properties, businesses, or events without visible security are often targeted by thieves and vandals; the active presence of a marked patrol vehicle is a very persuasive reason for them to move on. People are less likely to commit crime if the possibility of getting caught is high.
Source Of Help
Marked security vehicles are easily identified sources of help for residents, employees, or event attendees. Anyone on the property with a security emergency will know exactly who to contact for the assistance they need. Responding to calls for help will be quick, as the security officers have motor vehicles and will be able to get to the problem area fast.
Prompt Response To Emergencies
For the same reason, the security officer's access to vehicles means they can respond quickly to alarms or other incidents. Every second counts when it comes to crime prevention, and security vehicles are a game-changer.
Eagle-Eye For Brewing Trouble
Our security officers have the training and experience to know when something isn't quite right. They are able to pick up on suspicious behavior and potential threats and will respond in a way that will deter criminal actions. Should the situation be out of the observe and deter protocols, they will report it to the relevant authorities.
Good Connections With Authorities
As a security company, we have built long-standing relationships of trust with authorities. These connections can lead to quicker response times, which can make a difference when it comes to your security.
A Sense Of Safety
Making people feel safe is an important, yet often overlooked reason for hiring marked patrol services. People need to feel safe and protected to live stress-free. The presence of our vehicles and officers offers them a real sense of safety, with the experience to back it up with real-time responses, should a threat present itself. A marked patrol service will bring peace of mind to all who use the property and help create a relaxed environment free from worry.
Who Can Benefit From A Marked Security Service?
Marked patrols provide a perfect solution for larger properties that need a mobile security presence. With the use of vehicles, large areas can be covered in a short space of time. It is also an ideal crime deterrent for schools, churches, synagogues, commercial buildings, and industrial properties. Big events will also benefit from the added security of a marked patrol service.
Cost-Effective Security Solution
Mobile patrol services are a cost-effective alternative to hiring a permanent security guard. Being mobile, they can keep your entire property under surveillance, reducing the risk of damage to your property.
How To Know If Marked Patrol Services Is Right For You
If you feel that you or your business would benefit from a marked patrol service, contact us for a free security consultation. Our security professionals will be happy to discuss all the options with you and come up with a tailor-made security solution for your home, business, or event.