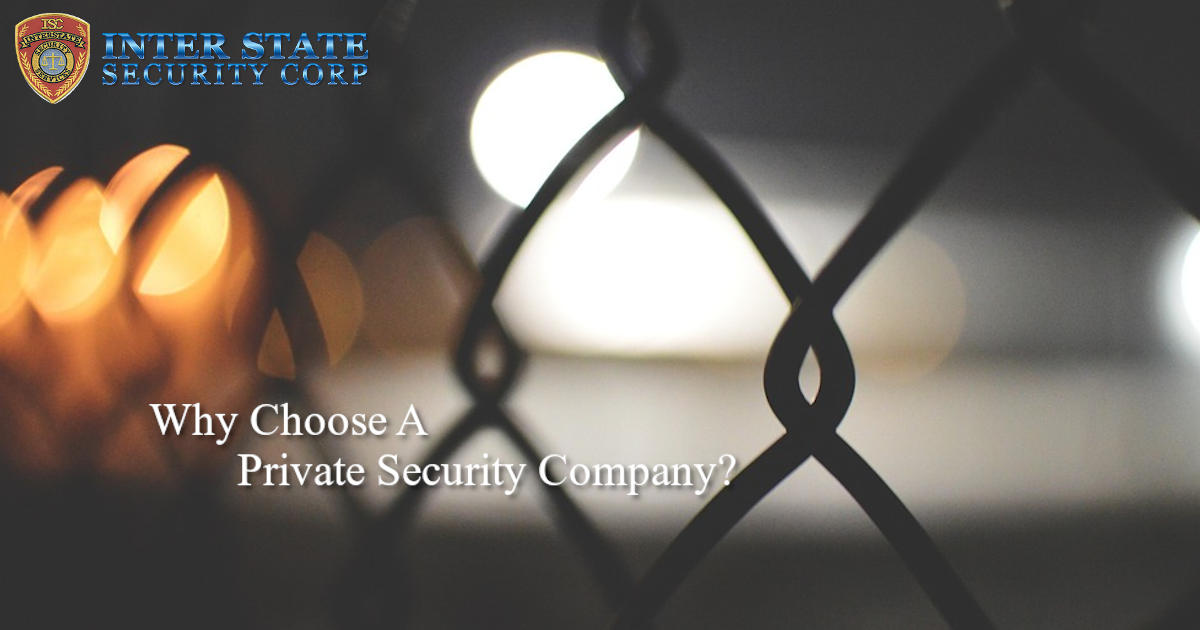 In today's world, one can never be too prepared or careful when it comes to the security and safety of your business, employees, and customers. This is when private security companies can be very helpful. Private security companies are often hired by different business owners to help deter thieves, protect their business, their employees, and to give customers peace of mind, knowing that they can call trustworthy professionals that they can rely on in times of need.
Private security companies' services include private guarding, patrols, and professional surveillance. When you hire one of these companies you can have the security services tailor made to your business's needs. Private security companies are more likely to keep everything up to date with regards to certifications, equipment and training techniques.
Reasons To Hire A Private Security Company
Hiring a private security company, is always a good option if you're serious about your business running in the safest possible way. There are many benefits to hiring a private security company for your business.
Lower Risk Of Crime

Criminals are often more likely to target businesses that have little, to no security.

Hiring a private security company will help deter some criminals. Whether it's uniformed security guards, patrols, or strategically placed security cameras monitoring what's happening, as long as potential criminals notice that you have security, they'll think twice.

Private Security Companies Have Less Restraints

Private security companies, unlike public security, have less restraints and conditions put on them by government. Private security companies can be hired by anyone that is interested in their services and will make sure their tasks are complete before they clock off. Public security services are provided by government and are obligated to protect the public, private security services can be tailored to their employer's needs.

No Extra Training Needed

When you hire from a professional security company, they will know all the ins and outs of the security business. They will have acquired and kept all the necessary qualifications, certifications will be up to date, and they will be able to perform various tasks from patrolling and video surveillance to locking and unlocking secure rooms and recognizing suspicious behavior.

Increased Workplace Safety

The first person your customers will see would be your security guard. When you have a security presence, your customers as well as employees will feel calmer. Knowing there is someone protecting them from potential criminals and watching over them to keep them safe from dangerous situations will keep their minds at ease. This will always leave a good impression of your business in your customers minds.

Private Security Helps With Crowd Control

If your business ever needs to host a public event, private security can come in handy. When events attract crowds, it's important to be able to keep everyone safe. Private security companies will be able to supply extra security to make sure that everyone stays safe and keep the crowds in check.

Access To State Of The Art Technology

Quality private security companies make sure that their personnel are fully trained and equipped with the latest in security technology as soon as it's made available. From mobile patrol apps, security cameras, access control systems to computers. So, when they look after your business, they can do it to their best ability.

Private Security Personnel Are More Available

When you hire from a private security company, the security personnel are able to react faster to thieves, potentially dangerous situations or threatening situations because that is what they've been trained for. They will also be able to handle a multitude of problems within a short, as they are often on site already, either at their post, patrolling, or watching over security cameras.
Private Security Companies In Broward, Palm Beach and Miami-Dade
Security is about much more than just safety, trusted systems, preventative measures and peace of mind are always a top priority. Your family, business, clients and employees will all benefit from a private security company. If you would like to find out more about our professional private security services don't hesitate to call us! Broward: 954-753-4700, Palm Beach: 561-732-1380, and Miami-Dade: 305-949-1142.