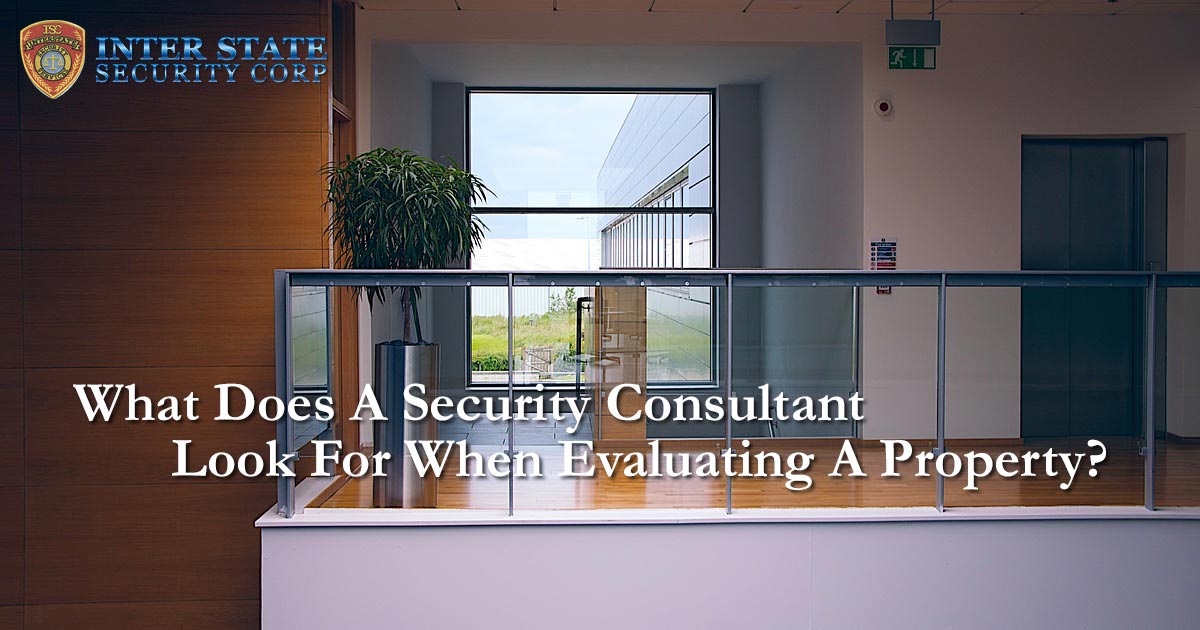 A security consultant evaluates a property by assessing and identify areas that make it vulnerable to potential intruders and provide easy opportunities for crime. Security consultants will also offer tips for crime prevention strategies.
Security Evaluation 101: What Areas Are Assessed?
Lighting
Is there sufficient lighting around the outside of the building, or are there any dark areas that could serve as hiding places for a potential thief? Lighting should be aimed to cover the front, back, and sides of the property. Good visibility can help neighbors and police to spot an intruder.


Are the outside lights vandal-resistant and mounted in a difficult to reach place? Outside lights can be vulnerable to being tampered with and rendered ineffective.


Are there any timers set to turn lights on and off to mimic someone being present at all times? This simple trick can add another layer of deterrent to a potential intruder.


Are doors and windows illuminated at night? A thief may decide to move on to an easier target, rather than risk breaking in if there is a much higher risk of exposure.
Property Perimeter
Fencing: Is the fencing privacy fencing, or slatted fencing that allows visibility? It is safer to have a fence that you can see through as fences that create privacy for the residents, will also hide potential intruders. Are the horizontal rails on the inside or outside of the fence? Railing on the outside creates a handy ladder for potential intruders. Are the fence gates able to be locked?


Shrubbery: Are shrubs and trees overgrown and allowed to grow close to sidewalks, windows, doors, porches or gates? Overgrown shrubbery offers an easy hiding place. Trimmed shrubbery that is cut away from buildings and pathways increases visibility and reduces risk.


Identification: Is the house number clearly visible from the street? An address that is easy to find makes it quicker for emergency responders to find the house.
Entrances & Exits
Are entrance gates motorized or manual? Manually operated gates leave a driver vulnerable to thieves as they have to leave their vehicle to open the gate. Motorized gates mean that the driver can stay locked in their vehicle while entering the property.
Do sliding doors have extra security against prying and lifting? Sliding doors can be soft entry points even when locked.


Are the windows and doors of the property protected with an alarm system?
Windows
Are the windows easy to open, or are the fitted with a secondary lock or barrier? There are simple ways to double the difficulty of breaking a window.


Is the glass reinforced with security film? Security film won't stop the window breaking but it will prevent the glass from shattering which will slow down the burglar, giving the police more time to arrive.
Other Factors
Is there an active Neighborhood Watch in the community?


Is the property alarmed? It is also good to have the alarm mounted somewhere visible. While an alarm won't prevent a burglary, it does add a layer of security.
With over 28 years of experience in the security industry, our consultants are available to give you a comprehensive analysis of the areas that make your property a vulnerable target. They will also suggest ways to fix the weak areas. Simple changes can make a big difference when it comes to securing your property. Call us today to book your assessment by the security company that goes above and beyond.