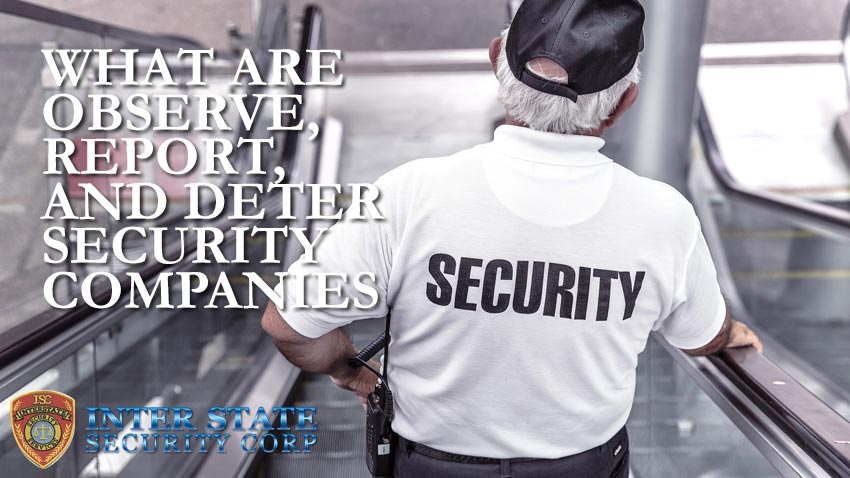 For hundreds of years, the concept of the security guard has evolved from someone who watches over us only during the night, to being someone present in a variety of situations to provide protection and to prevent illegal activity. At Inter State Security Corp, your security is our top-priority and concern and in order to provide you with that, we specialize in the observation, reporting and deterring processes.
You might be asking yourself what an observe, report and deter security company is. This is the methodology by which many security officers are trained to perform their duty. It is a tried and tested method that has been implemented and utilized by many security companies around the country and the world, including Inter State Security Corp. It is made up of three components, which are integral to the functioning of a security guard:
Observe
Any well-trained control officer or security guard will be skilled in observation. This means that they are able to observe your company or the area where you require security surveillance and can spot any activity which would be deemed suspicious or illegal. This is typically done in the form of premises patrols. However, this isn't the only thing that security personnel are trained in. They are also able to provide CCTV services. At Inter State Security Corp, we provide a complete assessment of your business to determine how many CCTV cameras are required. All these CCTV cameras will be operated and managed by a trained security officer. While multiple CCTV cameras may seem difficult to operate or handle for one or two security guards, they are in fact trained to see when there is any suspicious activity or an emergency which needs to be attended to.
Report
Obviously, seeing something suspicious and doing nothing about it does not make a security officer good at their job. Once there is something that has been observed, it is part of the duty of the security officer to make sure that the correct people have been notified by reporting the incident that they have witnessed. Security officers are trained to know which paperwork to complete in which instance, as well as the correct protocols for reporting an incidence. Sometimes, this may mean reporting to a higher authority, but other times it can mean taking action themselves. The most important factor is to notify you, the client. At Inter State Security Corp, we take pride in the transparency with which we provide our services, ensuring that clients are constantly updated and reported to in order to feel safe and secure.
Deter
Deterrence is another top-priority for security companies and officers. The purpose of deterrence, as the name suggests, is to make sure someone who was planning on performing a criminal activity to think again. There are a number of ways in which this can be achieved. Namely, having someone in a security uniform patrolling a business to alert criminals or suspicious persons that this area is manned by security and guards. Inter State Security Corp provides uniformed security officers. Another form of deterrence is for security officers to question or approach individuals who look or act suspicious. This method has proven to make suspicious individuals more unwilling to partake in suspicious activity.
Security as an umbrella term is typically made up of these three methodologies. Regardless of the type of security company, be it uniformed, under cover, plainclothes security or security surveillance, all companies should live and operate by these methodologies. At Inter State Security Corp, we pride ourselves in providing security for all safety needs which is guaranteed to ensure that you feel secure and safe.