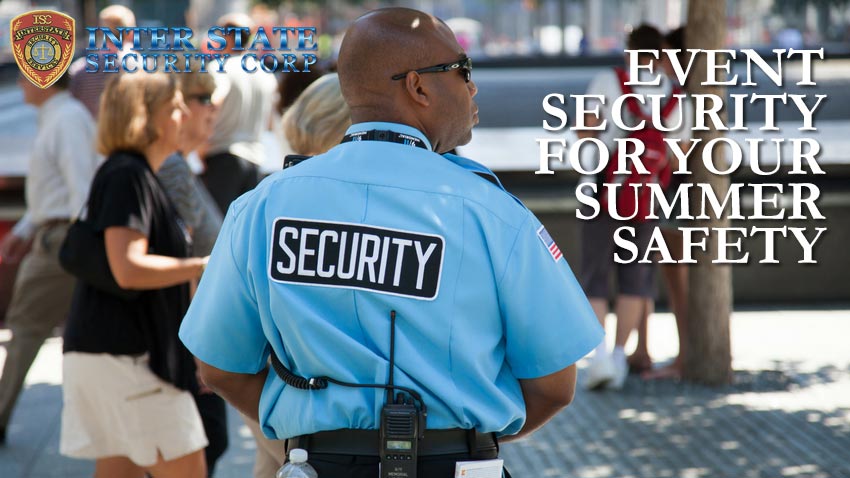 It's the summer time and that means sunshine, concerts, 4th of July celebrations, fun and lots of summer events. The opposite side of this is that threats to safety and security don't stop when the sun comes out. It is therefore important to consider what the best ways of ensuring the safety and security of both staff and event attendees are.
Steps to Help Improve Event Security
Consider these few steps to help improve the event security for your next summer event.
Security consultants are highly trained professionals with a wealth of knowledge in the industry. They are invaluable tools in ensuring that summer events run as smoothly and stress free as possible. They will be able to use their security expertise to advise event managers on what the best security measures are to implement.

High quality security guards are a must at any event – they are one of the most important parts of event security. They can do so much for events such as act as deterrents. For example, most people won't do anything if they know that they will get caught and there will be consequences to their actions. Visible security guards remind people they have to act a certain way.

Under cover security guards are also useful at events as they blend into crowds and can observe people's behavior when they think that they aren't being monitored. This is a useful tool in intercepting threats and other crimes such as illegal substance dealing.

Furthermore, security guards can act as a form of access control. For example, if you're throwing a music festival, you may need someone to ensure that only people with the correct bands have access to the correct areas.

Install Cameras

Cameras are excellent security tools. They allow security staff to monitor various areas of events from a single location. They are excellent tools for recognizing threats and identifying trouble makers. They can also be useful tools to monitor staff. For example, to ensure that the bar staff are all doing their jobs and that they are not doing anything underhanded. They also have the added bonus of being relatively easy to install when done by knowledgeable professionals.

Secure and Monitor the Perimeter

Area management is a major part of event security. Erecting perimeter equipment such as fencing is an essential tool in ensuring that an event is secure. It works by preventing unauthorized access to events.

The monitoring of the perimeter is also important as a fence alone won't be enough to keep out unauthorized people. Combining a perimeter fence with security guards and the deterring elements they bring is an effective way of ensuring your summer event is more secure.
Summer is here, but that does not mean we should forget the threats that we face every day of our lives. It is important to ensure that when hosting or attending events, proper security measures have been taken to ensure the safety of everyone.