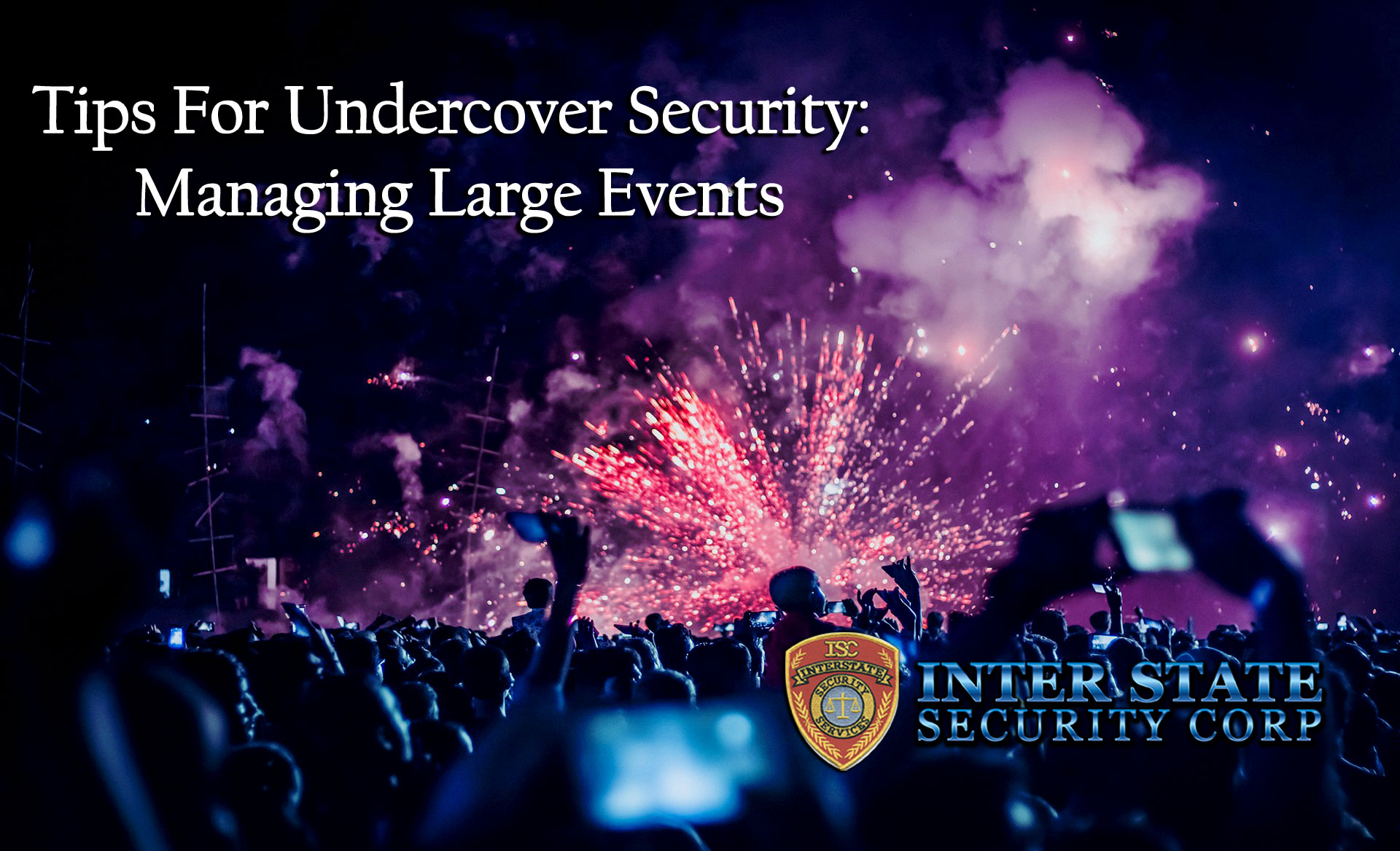 Gathering large crowds of people will always create a high security risk environment. Sometimes the presence of uniformed security at a social event may be too intimidating. Consider undercover security as an option.
Undercover security officers blend in and keep an eye out for anything that would put the guests at risk. They act quickly to observe, deter, and report anything that could cause trouble.
Large Event Undercover Security Tips
Successfully covering all the potential risks associated with a big event takes planning beforehand. It also coordinated team execution on the day. Undercover officers follow meticulous procedures to ensure the safety of the guests. Here are some of their protocols.
Assessing Security Risks
Different events have different security needs. A concert by a world-famous popstar carries a higher risk than a senior dance at the local school.
A security company will prepare for the worst-case scenario. For an undercover security team, this means assessing what type of risk they are dealing with based on:
Who is the event host? Is there a reason for them to be targeted?
Who are the event attendees? Are they likely to attract controversy?
What event is it? Are the topics likely to invite security issues? A political event carries a higher security risk than a church rally.
Who is the main speaker, singer, performer or artist that will be exhibiting? Does their work attract the wrong element, or create a security risk?
Will the event attract protests or counter-protests?
Will there be anyone from the media present?
What are the venue's security vulnerabilities? An outdoor venue is trickier to secure, while indoor venues have limited escape routes.
Are there potential non-human security threats, such as wild animals, potential for flooding.
Developing An Emergency Response Plan
Before the event, a security company will draft an emergency response plan with detailed instructions for in case of an emergency or disaster.
The plan should include:
Mass evacuation routes from the event.
Steps to take if there's an active shooter.
Clear locations of safe areas or rooms.
Staff gathering point in the event of an emergency.
Means of staff communication during an emergency.
Plan for directing guests during the crisis.
Guest instructions in the form of signs and notifications.
Signage and notifications for guests regarding how to respond.
Undercover Security Staff Protocols
Hiring a reputable security company will ensure that the staff assigned to your event have been carefully chosen and screened. Inter State Security officers are fully screened, trained, licensed, and insured. Moreover, we've been protecting South Florida residents for decades.
Staff members working the same event should be introduced to each other and know who all is on the team, especially as they aren't wearing a uniform for quick identification.
Undercover staff should wear a unique identifier, such a stamp, T-shirt or wrist band. Their identifier must be given to them just before the event begins to prevent outsiders posing as staff.
Why Use Undercover Security at A Big Event?
Some may argue that it's better to use uniformed officers to be a visible deterrent for potential criminals. Undercover security officers fulfill a different role at big events. Here are some of the things that they are able to monitor more effectively than their uniformed counterparts.
Curb & Deter Drug Activity
Undercover officers who mingle with the crowd are much more likely to be in a position to curb drug activity. Users aren't their primary focus as much as those who are supplying drugs. Dealers are careful around uniformed officers but are less so around undercover officers.
Monitoring Restricted Areas
Guests may try to access restricted areas at times, for example fans going backstage at a concert to meet the artist. While they're in a restricted area, they'll be careful to avoid uniformed officers, but may not think twice about the undercover officer. The undercover security officer will be able to assist them.
Artist, Performer, and Guest Protection
Undercover personnel are a line of protection for people who aren't ready to be bombarded before or after their event. Lastly, officers who are undercover form an informal guard around the artist to protect them from unwelcome attention.
Hire Undercover Security for Safety At Large Events
Planning for a security presence at your large event is vital to the smooth-running success of your occasion. Going undercover will add an extra layer of protection that will give you peace of mind.
Whatever happens, we've got your back. To keep your guests and artists safe, contact us at Broward: 954.753.4700, Palm Beach: 561.732.1380, or Miami-Dade: 305.949.1142.