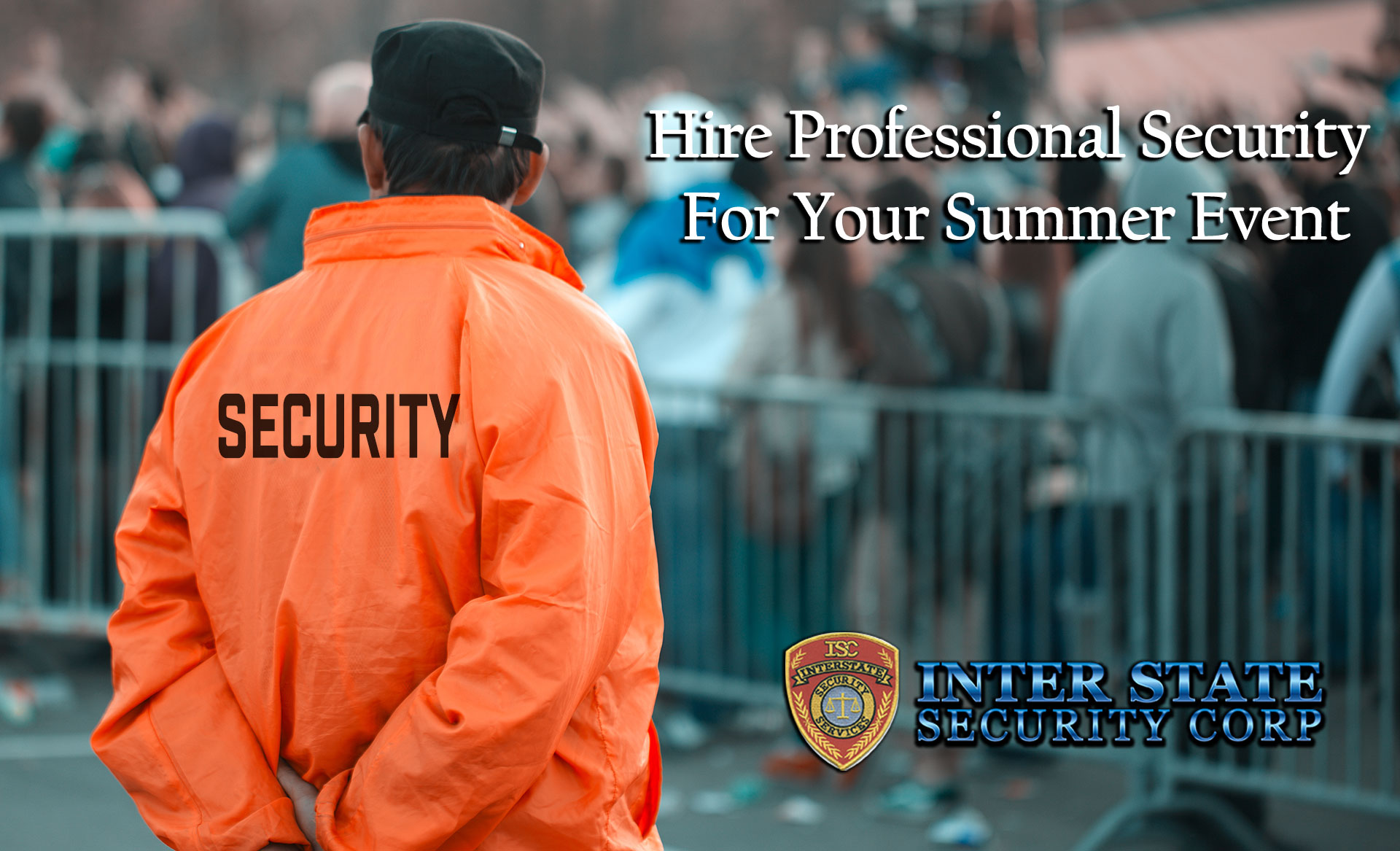 More and more people are getting the COVID-19 vaccination. This means that life is somewhat starting to get back to 'normal'. People are traveling again and going out more while feeling safer doing so. For event planners, work is starting to pick up, and just thinking about it may form knots in your shoulders. Organizing an event is a big job. A big enough job without having to worry about people's moods and motives for attending your event.For decades, professional security has supplemented law enforcement and kept people in check.
On the day of your event, security can help in more ways than one. Here are a few reasons why Inter State Security believes that you should hire professional security for your summer event.
Prevent Crime
Unfortunately, not everyone attending an event has the same idea of a 'good time'. There will always be somebody looking for the perfect opportunity to make someone else's life a little more difficult. The good news is that fear is a very powerful emotion. The mere presence of security may deter opportunists for fear of getting caught.
Professional security is trained to detect and deter suspicious activities or behaviors. This allows them to take action before anything gets out of hand.
Handle Crime
Before attending an event, I'm sure that we have all had the 'hold onto your handbag' or 'don't keep things in your back pocket' chat with family members. The sad truth is that large events are an opportunist's playground.
Should anything happen, professional security is trained to handle any security concerns. Better than anyone else present, they know how to:
Respond to situations
Prevent the suspect from getting away
Interview witnesses
Inspect areas for safety risks
Professional security will apprehend the suspect until the police arrive. This will give you peace of mind, knowing that they can no longer cause chaos at your event.
Monitor Everyone Coming In
Having professional security at the entrance of your event sets the tone. It shows that bad behavior will be tolerated; and that your guests will be protected.
Security can manage the guest list. This ensures that no unwanted guests are allowed into your event. This includes monitoring lines to make sure that not cutting is taking place and checking bags and belongings for any weapons or illegal substances.
Crowd Control
Hosting an event with a large crowd is difficult. Now try adding alcohol into the mix. This leaves you with a group of unpredictable adults, acting like children.
In the event of an evacuation, an uncontrollable crowd can make a bad situation worse. While you may not know what to do, this is a situation that your professional security would have anticipated and planned for.
Security helps give your guests the experience that they have paid for; making sure all entrances and exits are unblocked. They can also help keep the crowd in their designated areas.
Meeting Venue Requirements
Before renting a venue, the owners need to ensure that their property will be looked after. To do this, they have a list of requirements that need to be met.
A lot of the time, hiring professional security will be one of those requirements. This tells them that their property will be protected with minimal damage. It also gives them peace of mind that there will be no criminal issues while you are renting from them.
Professional Training
Professional security knows what to look for and how to respond. This is not something that comes naturally to them, but rather through years of training. Our officers are trained in:
Fire safety awareness
Emergency preparedness
Drug awareness
First aid
Additionally, a professional will be skilled in observing and conflict resolution.
Professional Security In South Florida
Hiring a professional security company will allow you to focus on running your event as best you can. Call Inter State Security today for all your security needs.