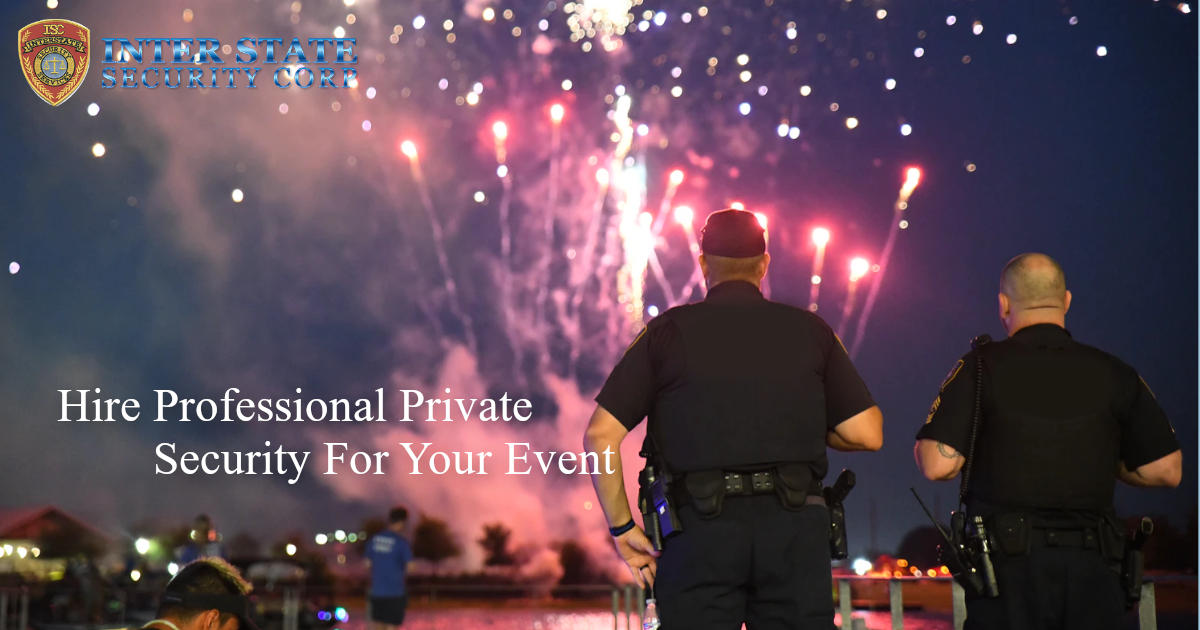 A large gathering of any kind comes with a security risk. It is for this reason that when you are planning an event, the budget for a private security company should be at the top of your list.
Why You Should Hire A Private Security Company For Your Event
The main role of private security companies at any event include:
To be visible. When security is visible, people at the event feel safer and potential troublemakers are less likely to act out.
To be vigilant. They are trained to scan crowds and notice when something is amiss. Their primary role is not to respond to threats but to prevent them in the first place.
Identify and prevent any uninvited or unexpected guests from accessing the event.
Be the "go-to" people in the event of an emergency. They will have carefully studied the venue and know where all emergency exits are. They are also trained and experienced in crowd control, so can manage crowds in any situation.
What To Expect When Hiring A Private Security Company
To provide a good service, any security company will need to have all the necessary information regarding the event, the venue, and the type of people that will be attending, long before the event takes place. They will schedule several meetings with the organizers to:
Assess All The Risks
The security company will be asking questions about:
The venue. Indoor venues pose different risks to outdoor venues. Outdoor venues are usually easier to evacuate in an emergency but are more difficult to secure and vulnerable to the elements.
The number of entrances and exits that are going to be used. They will also be made aware of any exits that are specially designed for any person with a disability. All entrances and exits will need to be manned.
The people hosting the event, the speakers/performers, and the people attending.
Is the gathering of a controversial nature? Are they likely to attract protestors?
Are there likely to be any high-profile celebrities attending?
Will there be media present?
How many people will be attending?
What is the general age of the crowd that is expected to attend? Children and the elderly have very specific and different security needs to the general public.
If they will be required to keep venue equipment or motor vehicles safe. If they are required to do so, more personnel will be needed.
The Evacuation Plan – they will be instrumental in coordinating an evacuation plan and trained in crowd control, in the event of an emergency evacuation being necessary.
The Security Company's Role On The Day Of The Event
Private security companies have usually assessed all areas of risk and arrive fully prepared for any eventuality on the day of the event. Depending on whether the event wants plainclothes security or uniformed security, the team will take up their positions before the people start arriving.
They will be in charge of only allowing people with a ticket or invitation into the venue. In most situations, the security company will have set up a metal detector and/or be authorized to do a bag search. The entrances are usually positioned a little distance from the actual event, allowing the security company to escort unwelcome people off the premises before they reach the crowds.
During the event, they will be stationed at their posts and remain vigilant. They are experienced and trained to know how troublemakers think and are usually able to anticipate and prevent any unacceptable behavior.
Although they are usually trained in level 1 First Aid, it is not their primary responsibility, but they will assist in getting any person safely to the correct area to receive medical attention if necessary.
Private Security Company's Role At An Event During A Pandemic
Event planning post-COVID-19 poses different challenges. The private security team you hire will have extra responsibilities and take on diverse roles.
They will be receiving specialized training and updated information daily. Some of the roles the security team may be asked to perform are:
Ensure that social distancing is practiced while people line up to enter the venue.
They may need to screen all people entering the premises. COVID-19 screening usually involves a temperature check and answering a basic questionnaire regarding signs and symptoms.
Ensure that everyone is wearing a mask at all times and that it is worn correctly.
They will need to ensure that social distance is always maintained and will be extra vigilant to ensure that no troublemakers start a fight.
Be instrumental in advising people to use hand sanitizer regularly, especially in the bathrooms or when buying from vendors.
Have been properly trained so may be called upon to deal with unpredictable and demanding people who refuse to comply with mask-wearing and/or social distancing.
Inter State Security Corp, Your Private Security Company Of Choice for all Your Events
If you are serious about security at your event, and are looking for a private security company that is trained, experienced, and licensed by the State of Florida, contact Inter State Security Corp Broward (954) 753-4700, Miami-Dade (305)949-1142 and Palm Beach (561) 732-1380, today.