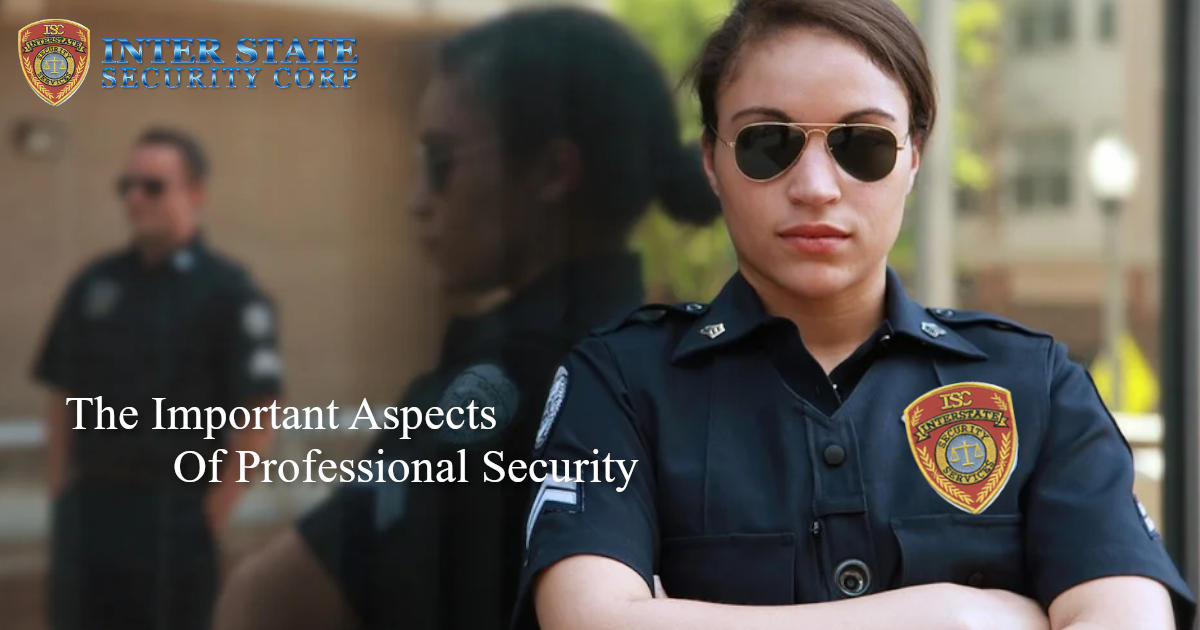 There's nothing more important than keeping yourself, your family, and property safe. Opting for professional security will help you sleep better at night. No more worrying about the risk of crime, theft, and assault.
According to the Occupational Employment Statistics by the U.S. Bureau of Labor Statistics, the number of employed security guards has increased by nearly 10% in 2019. This means that there is a growing need for this profession. Also, the bureau predicts that the number to continue to increase to 1.15 million by 2024.
Hence, the Inter State Security Corp wants you to know the many benefits of professional security for your home and business.
Adding An Extra Layer Of Protection
Professional security guards are trained to protect their clients from vandalism, fire, floods, and criminal activities. They are equipped to evaluate your property to provide you with an analysis of any risky areas and come up with a comprehensive security plan.
More often than not, their presence alone is enough to deter intruders and trespassers.
There's more to securing your homes and business than simply adding a video security system to monitor activities. When a suspicious event occurs, you'd want someone to act on it immediately before it escalates into something dangerous. Security guards are trained and have human insights to take immediate action according to the protocol, which is something your cameras can't do. They also utilize software and surveillance technologies to assist them during emergencies.
If you're in the market for a remote monitoring service, it's good to look for experienced remote guards as well because they will know how to fully utilize the system to protect your property more efficiently. Some security companies will provide you with their own security systems, in addition to their security personnel.
Maintaining Your Business's Reputation
If you're a business owner, it's even more important for you to look at professional security simply because you have more people to protect – you, your staff, and your clients – and it can make or break your business's reputation.
When your business is the target of theft, arson, gang violence, and vandalism, it can make your staff and customers feel unsafe and it can also cause building damages. Thus, harming your reputation. Your customers would not want to return to your business and your staff might feel unsafe to work.
This will be especially helpful if your business is located in an area with higher levels of crime. When your employees feel safe, it helps improve retention rate and service quality.
Professional Security Can Save You Money
By adding that extra layer of security, you are also reducing the cost of your insurance, property maintenance, and possible lawsuits from unforeseen events. Professional security guards help reduce threats that could potentially damage your property. As a result, you prove to have a lower risk for lower insurance premiums and you won't end up with costly building repairs.
Hiring Professional Security
Regardless if you're a homeowner or business owner, it's safe to say that there are more benefits to having professional security at your property. It not only saves lives, but it also saves you money in the long run.
The security personnel at Inter State Security are licensed by the State of Florida. Additionally, all officers possess a Class D Security Officer License. Inter State also supplies their officers with patrol vehicles, a custom gate entry computer, and camera systems.
Inter State Security personnel are unarmed security guards, so they don't carry guns. They de-escalate risky situations using verbal strategies and nonlethal force, which reduces your liability for injuries and lawsuits.
To learn more about professional security, contact us at (954) 753-4700 if you're in the Broward area; (561) 732-1380 for Palm Beach; and (305) 949-1142 for Miami-Dade.