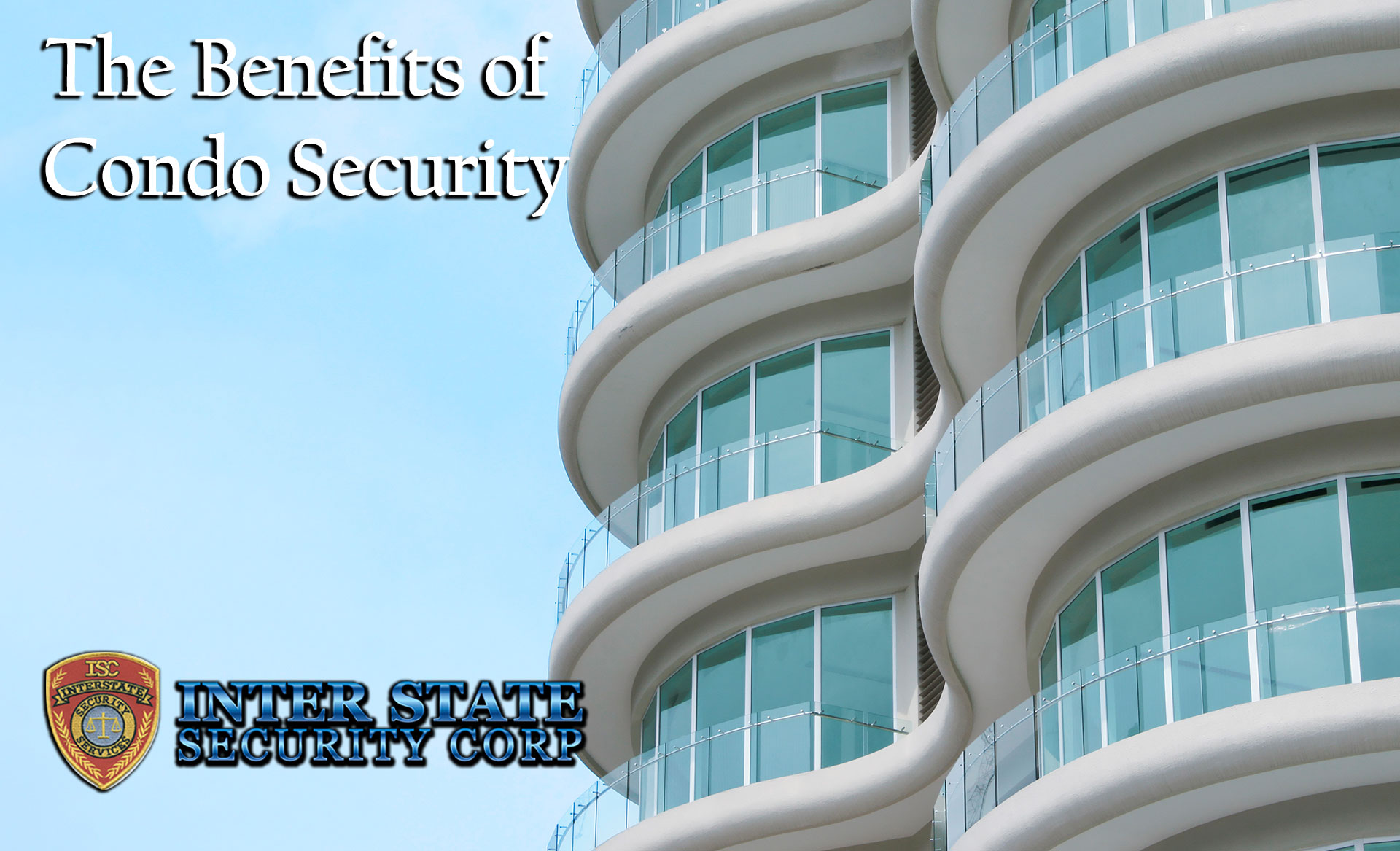 With our beautiful beaches, fascinating attractions, and gorgeous weather, it is no surprise that condominiums are one of the most popular housing options for South Florida residents. Whether living here full-time or part-time, condos offer people flexible living and several benefits. One of the main attributes people look for is great condo security. Here, the experts at Inter State Security explain the benefits of hiring a great security team to protect your condos.
Condo Security Basics
Keeping your tenants safe and happy are top priorities and takes constant care and effort. One way to make this easier on you while still providing the quality service they deserve is to hire a comprehensive security service. Not only does condo security provide you and tenants with peace of mind, but it also makes your property more appealing to prospective clients. While many may assume that security guards just keep watch of the front gate and entryway, their responsibilities reach far beyond.
Benefits Of Condo Security
Aside from amenities and a sense of community, many people opt for condos because of their safe environment. At Inter State Security, our team protects your property and tenants without intruding on their daily lives.
By improving your security plan, you increase safety and convenience by providing these benefits:
Peace Of Mind
When people see a security guard at any type of business, commercial or residential, they instantly feel more at ease. For tenants who don't live in their condo all year, they can feel comfortable that their property is safe when they aren't there. Tenants will also feel more secure while they are sleeping. You will also have the peace of mind that your condo is under a constant watchful eye.
Prevent Crime
When burglars and vandals know that there are security staff on-premises, they are much less likely to commit a crime. This protection extends not only to the condo but also to residents' cars and outside property. If someone still attempts a crime, our team at Inter State Security has the training to manage the situation and take the proper measures, such as contacting the authorities.
Higher Renewal Rates
People want and need to feel comfortable in their homes. With a great security team, that's easily achievable. Residents will be less likely to move if they feel secure. Providing condo security will also increase new tenant applications. As they tour different condos, they will take their family's security into mind. As not all condos provide comprehensive security services, you can edge out the competition.
Before You Hire Condo Security
While the advantages of hiring condo security are numerous, there are several things to consider before making your decision. They include:
Needs and Risks
If this is your first time hiring a security team or you are looking to replace your current company, it is critical to weigh your needs and risks. Before making a decision, carefully look into your options. Read reviews and testimonials. Also, assess the security elements your tenant's desire.
Budget
Not all security companies are the same and that includes their costs. Hiring a high-priced company may cause you to neglect condo upkeep and maintenance costs. Security changes could also force you to raise condo fees if you're not careful. Inter State Security offers competitive rates with impeccable service.
Condo Security in South Florida
At Inter State Security, we understand that not all condos have the same needs. We collaborate closely with you to best determine the services you and your residents need. Our consulting team will carefully inspect your property to identify any risks and threats and produce a comprehensive security plan. Our expert team will then decide what service is best to protect your residents and property.
Security services we offer include uniformed security, select security, uniformed concierge, plainclothes security, undercover security, marked patrol, and unmarked patrol. Since 1985, Inter State Security has proudly served South Florida by offering the best in condo security. If you have any questions or would like to schedule a free consultation, call us today at (954)-753-4700 in Broward, (561)-732-1380 in Palm Beach, or (305) 949-1142 in Miami-Dade!