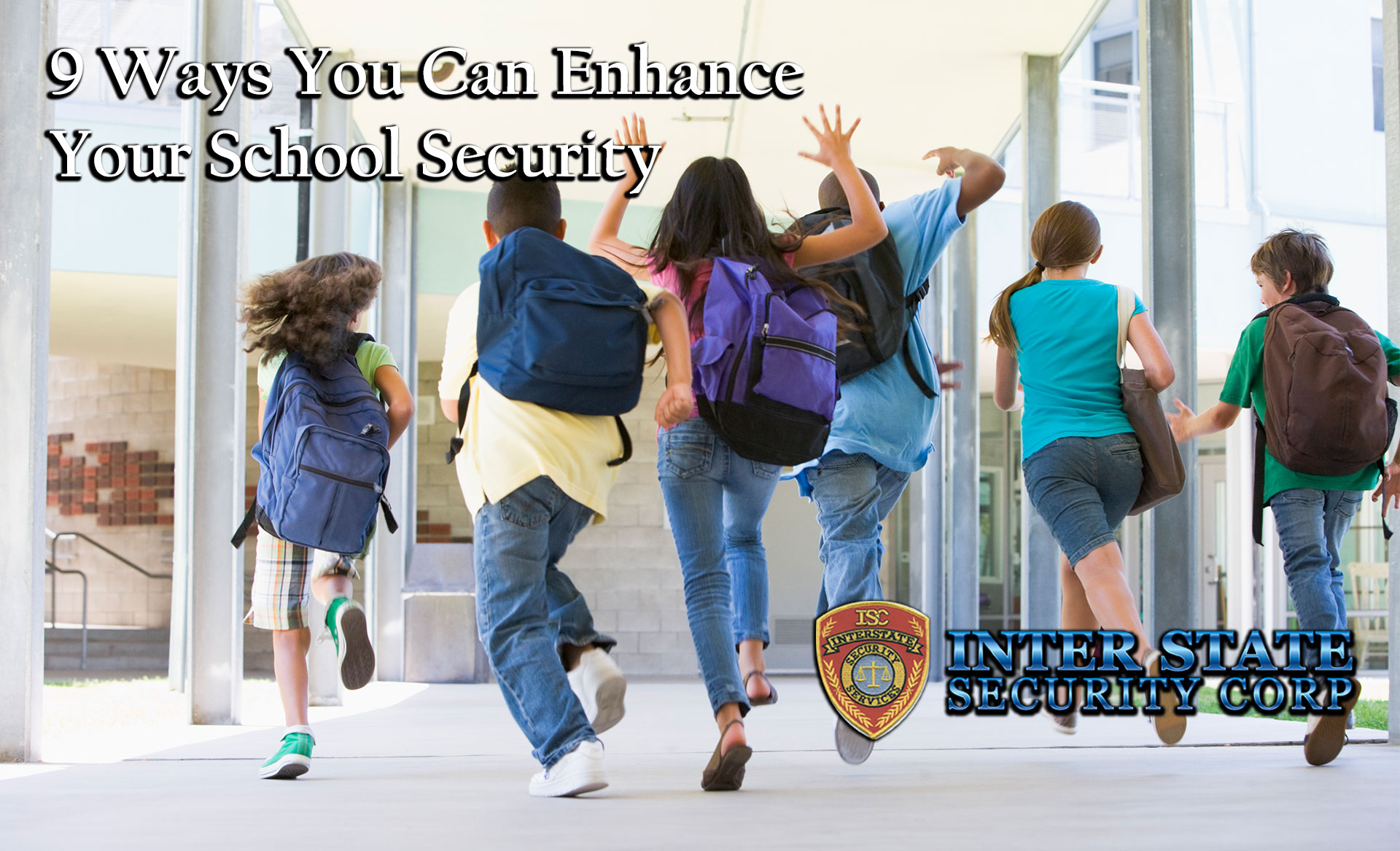 Education is the main focus of any school. However, safety is also at the top of the list, and it affects students, teachers, and other school staff members. It's critical to have school security protocols in place so that there's a safe environment for students and staff.
Here are 9 ways you can enhance your school security.

1. Create and Implement Emergency Action Plans
School staff should be trained using the National Incident Management System as well as the Incident Command System. Once an incident occurs, federal agencies, departments, and school administers are directed to respond by the NIMS. ICS outlines methods for safeguarding all occupants in the building and communicating.
2. Utilize Protective Technology and Strategize Layouts Inside of the Classrooms
All classrooms should be equipped with an intercom system that connects to administration, and teachers' desks should have panic alarms installed. When it comes to layouts inside of the classrooms, teachers should make sure that their desks are far from doors. This gives them more distance and more time to act in case there's an intruder.
If an evacuation is necessary, teachers should understand how to operate classroom windows if they cannot be opened. Tools should also be provided to break the windows.
3. Limit Entryways into the Building
Schools should only have one main entrance into the school for staff, students, and visitors. Access to the remaining doors needs to be locked and checked regularly to make sure they haven't been interfered with or propped open. Windows should be checked regularly as well.
4. Utilize Metal Detectors
It's not a must for metal detectors to be a permanent solution for safety at your school. They can be used momentarily or as a last-ditch effort. In some instances, metal detectors may be the best way to ensure students and staff are kept safe.
5. Effectively Manage Visitors
Letting visitors go in and out as they wish without any way of tracking them can put everyone in the school at risk. Implementing a visitor authorization process ensures that any visitor of the school is sufficiently identified, monitored, and tracked. All visitors should be directed to the main office, required to sign in, and wear visitor badges.
6. Monitor School Parking Lot and Student Common Areas
Enlist a parking lot monitor to supervise people who enter and leave the school grounds whenever possible. You should also monitor student common areas such as cafeterias, playgrounds, and hallways. For an increased layer of school security, consider adding video surveillance in those areas to record everything that could potentially be missed by the person in charge of monitoring.
7. Develop a School Crisis Plan and Training
The school's crisis plan should consist of preparedness procedures such as evacuations, emergency communication guidelines, lockdowns, and parent-student reunification methods. The plan should be conveyed to parents and the media. Teams in the building level should periodically hold simulation drills, review plans, and train staff members on how to best respond to student questions.
8. Anonymous Reporting Systems
Students should be provided with access to anonymous reporting systems. There are times when students find it challenging to speak up if they hear or see something that could jeopardize school security. They may want to avoid the embarrassment of being labeled a snitch. To avoid this, allow students a method to communicate in a safe way.
9. Foster School-Community Partnerships
For increased safety of the students that are off school grounds, it's best to create security communities. These measures that go beyond school property include Neighborhood Watch, police surveillance, and other programs. You can always find community organizations that are willing to assist.
School Security Services in South Florida
The tips outlined can help enhance the security of your school. Working as a team can go a long way, which is why combining strong procedures and a skilled security company is the best way to ensure the safety of students and staff.
If you would like to learn more about how we can keep your school safe with enhanced school security tactics, contact Inter State Security at one of our South Florida locations by calling Broward: (954) 753-4700; Palm Beach: (561) 732-1380; or Miami-Dade: (305) 949-1142.