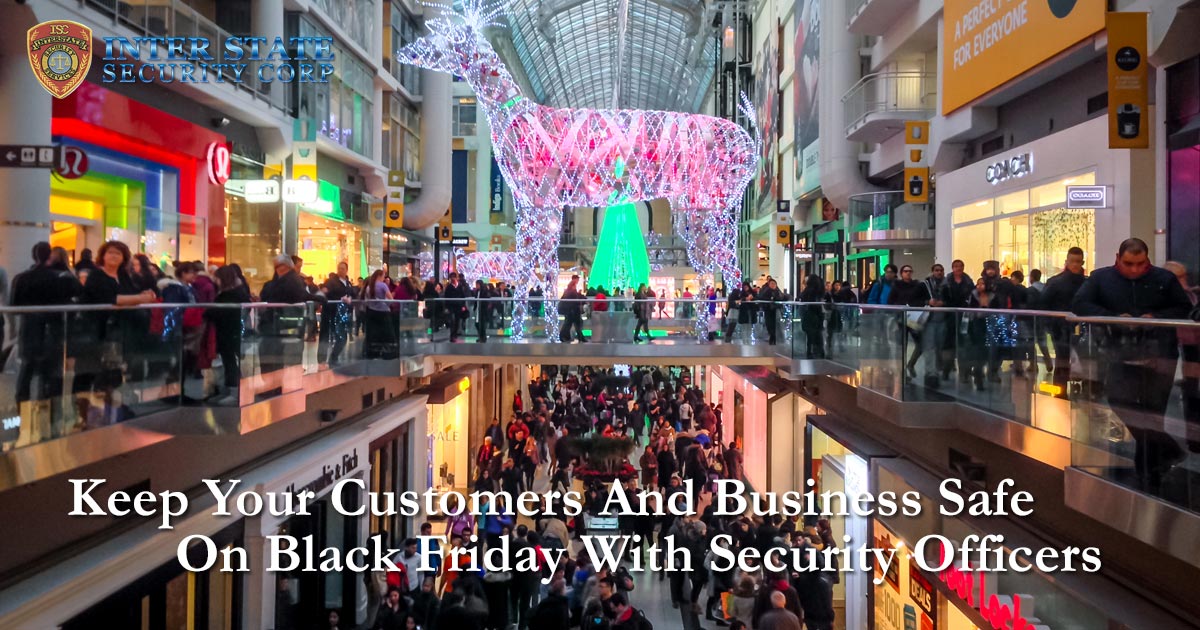 Black Friday is around the corner, and for both businesses and customers, it is the event of the year. Depending on your business's location, you may even have overly enthusiastic customers lining up outside your store from midnight or even earlier. The problem is that some Black Friday shoppers can be a little too over-enthusiastic to grab the best deals. This results in other customers being injured, random brawls over goods, and even stampedes. While it may not seem like a big deal, the situation can be worsened should a lawsuit occur due to incidents on your property, leading to legal and financial troubles. We discuss the challenges as well as some solutions that show how security officers can can benefit your business on Black Friday.
Black Friday Challenges
Aside from the normal challenges you'll face on Black Friday, including staffing and stock. You will need to bear in mind the variety of security challenges your business will face. You need to ensure your customers' safety and your business are completely protected during Black Friday.
Customer Safety

Unfortunately, due to the huge crowds that Black Friday shopping attracts. There is a high chance of your customers being hurt in the process to enter or even shop inside your store. There are numerous online lists of incidents that occurred during Black Friday sales. People are trampled due to the crowd stampeding and injured as they are pushed and shoved into various aisles, helpless to go against the crowd.

Theft

Businesses are especially vulnerable to theft during Black Friday. Due to the massive amount of people entering the store, most businesses and their staff are simply overwhelmed by the numbers and can't keep track of everything and everyone.

In some cases you may also find that some of your customers have merely come along to "shop" out of other customers' bags and wallets, the confusion and chaos on Black Friday mean that even if your store has camera's installed, you may not have enough staff on hand to view the footage. Unfortunately, sometimes it isn't just unscrupulous "customers" that are behind the theft, but store employees as well as supervisors and management just can't keep track of everything.

Emergency Services

Thanks to the ever-growing number of accidents which occur in-stores during Black Friday, oftentimes emergency responders are not able to get to the scene on time. With the number of people crowded into a single retail store, a fire can be a huge problem and cause many fatalities.
Security Solutions To Keep Your Business And Customers Safe
To be completely transparent, having extra security officers at your business on Black Friday, won't completely eliminate all hazards. There may be minor theft which does still occur and sometimes fights may break out between customers before security can deescalate the situation. At Inter State Security, we have a variety of services on offer to help you keep your business and customers safe.
Uniformed Security

Uniformed security officers act as a nice deterrent to any potential thieves. While it may not completely stop the more determined ones, your loss will not be as big. Uniformed officers also give other customers slight peace of mind that Black Friday chaos will be kept under control.

Plainclothes Security

Plainclothes security is a great way to stop loss prevention before the theft occurs. Having plainclothes security within the crowd enables them to keep a watchful eye over customers.

Undercover Security

If you're concerned about potential staff theft, having an undercover security officer work as one of your staff members is the best thing you can do. Undercover security can also keep an eye on customers amidst the chaos of Black Friday sales.
There are things you need to look out for when employing a security company, but you need to keep in mind what's important for you, your business and your customers. Remember that all of our officers are licensed by the State Of Florida and possess a Class D Security Officer License. Don't take unnecessary risks this Black Friday. For your peace of mind, enlist the help of professional security officers from Inter State Security to help keep the peace.