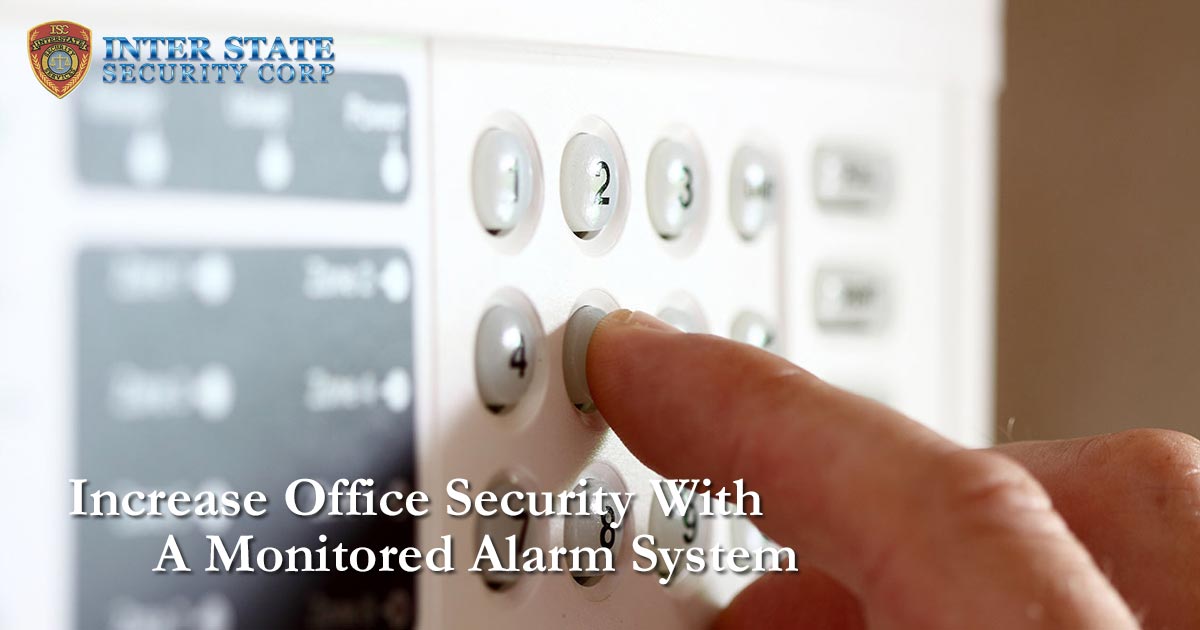 The presence of an office alarm system creates a great security benefit. But if it's not a monitored alarm system you might be missing out on a vital service. Think of when last you heard an alarm go off in your neighborhood. Did it phase you? Did the thought of going to investigate even cross your mind? We've become so accustomed to the sound of alarms that we tend to ignore them nowadays. If you're a business owner, you'll know the importance of knowing your business is safe and secure. This is where a monitored alarm system can go a long way to instill peace of mind. Let's have a look at how a monitored alarm system can help beef up your office security.
Peace Of Mind For Your Office Security
Offices contain a lot of important items. Depending on what line of work you're in, your office space could contain confidential documents that may be hard to replace if stolen. You also wouldn't want confidential documents getting into the wrong hands as there could be a confidentiality breach. Then there's your office inventory which could items such as computers, electronics, furniture, and other valuables. No one wants the hassle of having to replace all of these things. A monitored alarm system offers peace of mind for these and other fears.
Monitoring Is Convenient
A monitored alarm system increases your office security by introducing a 24-hour, active monitoring service that's overseen by a trusted security company. When the alarm detects a break-in, a fire, or any other emergency, it will notify the security company immediately. This gives you the peace of mind knowing that your company is always being taken care of.
A monitored alarm system takes the burden of monitoring out of your hands and allows you to focus on what's most important. Do you want to have to deal with an alarm that's gone off? Letting the professionals handle detection and the alerting of authorities takes a weight off of your shoulders. A reputable security company will also take the pressure of installing an alarm system out of your hands. This is especially helpful if you aren't mechanically inclined by knowing that your alarm will be installed correctly. A potential added benefit of installing a monitored alarm system is that you may qualify you for a reduction in insurance premiums depending on your insurance company's policies.
Monitored Alarm Systems Are Comprehensive
Once your alarm system is armed, it uses sensors to detect if a door or window has been opened. These sensors can also detect if a window has been broken or if there is any movement within the building. The sensors then instantly trigger the alarm which alerts your security company of the intrusion. Monitored alarm systems come in many different options to suit various requirements. When you sign up for a monitored alarm system, many other great benefits can accompany this. Inter State Security Company (ISSC), for instance, offers various services such as patrol vehicles and uniformed security services if you require a stronger security presence around your office environment. There are also many exciting developments in the future of office and home security.
Added to this, there are security equipment options offered by reputable security companies that can complement a monitored alarm system. One beneficial addition to your monitored alarm system is the presence of a CCTV camera system on your premises. Security cameras are an effective deterrent for burglars as they risk being caught on a recorded CCTV system. CCTV cameras are also helpful to help prevent any in-house employee theft that may be taking place. As you will have access to Video DVR monitoring, you will be able to identify any suspicious behavior on site.
Monitoring Is Matchless
If it's a peace of mind and convenience that you're after, then a monitored alarm is right for you. The benefits of a monitored system easily outweigh those of an unmonitored alarm system. At ISSC we offer professional, full-service commercial burglar alarm installation and monitoring around the clock. Our systems are adaptable to just about any building type. Make the right choice for your office security.