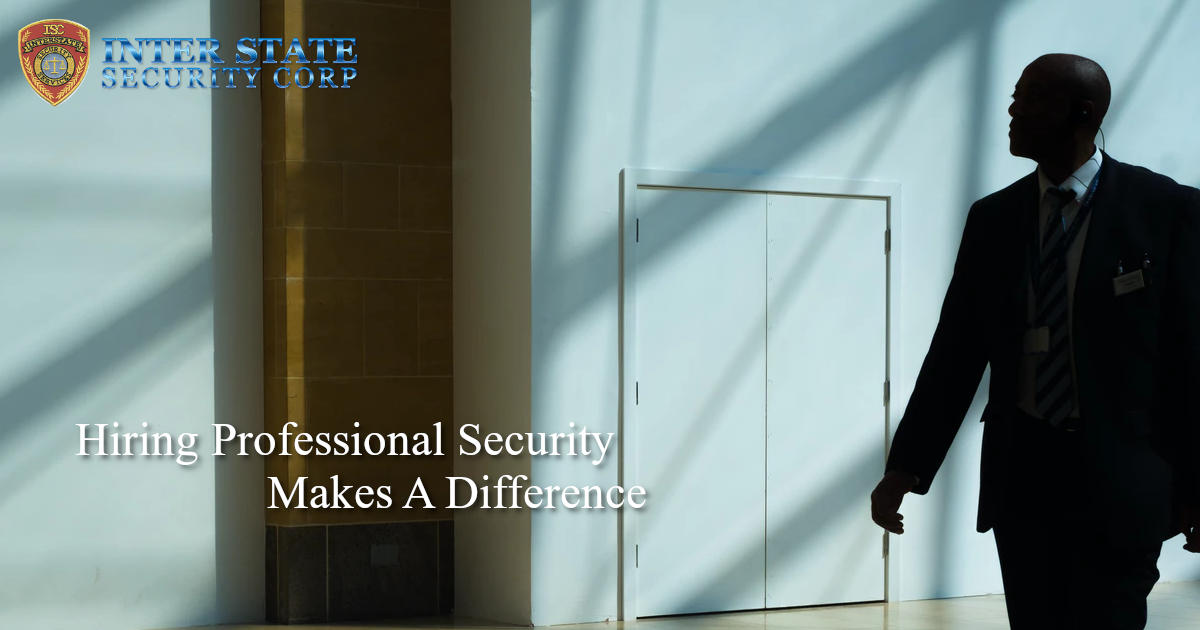 We all know that criminals love easy targets, this is why hiring a professional and licensed security company for your business is one of the best moves, you as a business owner could make. Professional security companies will have no problem making sure that your security plan is tailor made for your business. They also provide a greater sense of safety for your clients and employees.
Always make sure that you hire a reputable, licensed and professional security company for your business, don't try to take security measures into your own hands.
Why You Should Hire Professional Security
Security is not only about feeling safe, it's about peace-of-mind, trained security personnel, and reliable security systems. It only takes one bad incident to traumatize clients, employees, and even yourself and your family.
Taking security precautions often extends to access control, security guards, patrols, cybersecurity, alarm systems, CCTV, and even fencing. Listed below are a few benefits that come with hiring a professional security company:
Your workplace security is greatly improved by having security watching over your business.


You won't have to worry about how experienced and trained your security is.


Businesses with professional security have been shown to have lower crime rates.


Their security personnel are able to access and use all the latest security technology.


You don't have to think about keeping everyone and everything safe from criminals.


Their services can easily be made to accommodate you and your business's needs.


Private security has the ability to control large crowds, this prevents injuries.


They are able to provide private home security, as well as neighborhood patrols.


You can leave your business in their capable hands after closing up for the day.


They can identify weak spots and hot spots for crime and offer suggestions to these problems.
What Happens When You Don't Have Professional Security?
When you don't hire professional security, you could end up with an under-qualified security company or even someone who is trained incorrectly. You need to feel like you can trust your security company, and if you don't trust them then they're not the right company for you.
If your business doesn't have licensed & professional security, you could end up having to face a few problems such as:
Gaining a bad reputation with clients and not to mention, you always want a client to feel secure and safe.


Your employees could struggle with low morale if they are not feeling safe in their workplace.


Loss of merchandise could become a problem and you'll end up paying more than you should.


Your business may incur financial losses, due to theft, repairs to windows, doors and fencing.


The potential for injuries to customers, employees and even yourself due to criminals greatly increases.
The Liabilities Of Not Having Professional Security
There are many things that could go wrong at your place of business if you lack professional security. Criminals can be very crafty when committing crimes, professional security are trained to look for and deter or report individuals that are up to no good.
Most of the time when your business ends up being targeted, the criminals are in the wrong, sometimes they're injured and are dealt with as such. Unfortunately, they do sometimes find loopholes. One loophole arises when the criminals get injured. For example, if you do not have any signs saying 'private property' or 'no trespassing' around your business. If you do have such signs, they won't have a leg to stand on if they take you to court.
Security Companies In Miami-Dade, Broward & Palm Beach
Everyone desires to feel safe. This is where hiring a professional security company will come in handy. Your business, employees, clients and you will be able to rest easy knowing that you have gone the extra mile. If you are interested in learning more about our security services, don't hesitate to give us a call! Miami-Dade: (305)949-1142, Broward: (954) 753-4700 or Palm Beach: (561) 732-1380.