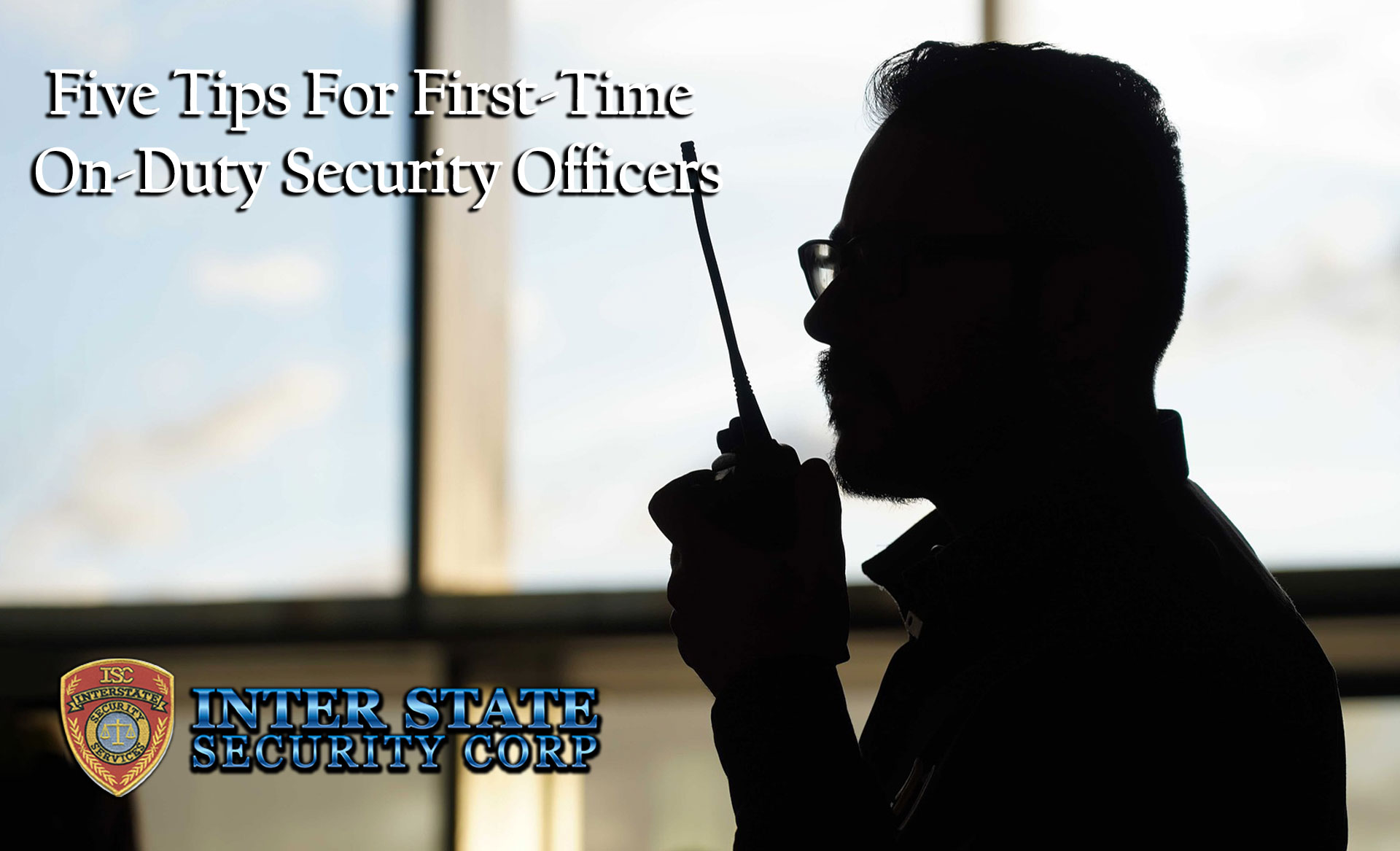 Any security officer will tell you that to provide a good quality service, you must feel secure. First-time on-duty security officers soon realize that they have a very visible and responsible role, so are understandably a little nervous at first.
Security officers are usually the first person, and the last person people see as they come to and leave an area. It is common knowledge that while most security officers provide an adequate service, some are remembered for their exceptional service. A first-time on-duty security officer has the potential to be remembered for their excellent service if they master these five important tips.
Five Tips That Separate Average Security Officers from Great Security Officers
Security officers are usually well trained and up for any task that is required, but there are things that all first-time on-duty officers need to know. Memorizing these five concepts will ensure you stand out from the rest.
Have the correct equipment
Know your surroundings
Plan ahead
Never stop learning
Prioritize your health
Have The Correct Equipment
To do their job effectively, a security officer must have the correct equipment. A good security officer will always ensure that:
The equipment is up to date. Some electronic equipment needs regular updates, make sure this is done whenever necessary.
The equipment is clean and in working order. Even if the equipment is not used often, it needs to be cleaned and checked daily.
A good security officer will ensure they have all the equipment they need, for any task that they are required to perform. For example, don't leave your torch at home because you are patrolling during the day. Torches are very necessary for peering into dark corners, gloomy areas, or in thick foliage when pursuing a suspect.
You need to view your uniform as a vital piece of your equipment. Your uniform needs to:

Fit correctly and be comfortable. Ill-fitting clothing or shoes cause discomfort and could prevent you from performing your duties effectively. This could have devastating consequences in an emergency.
Complete, clean, and tidy at all times. The public needs to be able to identify you by your uniform. A clean and tidy uniform inspires confidence and makes you stand out from the crowd in an emergency.
Know Your Surroundings
To do your job effectively, you need to be very familiar with your surroundings. You cannot spot something abnormal if you don't know what it normally looks like.
Do regular patrols. While on patrol, engage all your senses – stop, look, and listen. If you are familiar with normal sights, smells, and sounds, you will easily identify foreign ones.
Do not allow yourself to be distracted while on duty. It is a common tactic to distract the security officer while an accomplice breaks into the premises.
Be paranoid by nature. Investigate any unusual noises, sounds, or smells. In the best-case scenario, it's only rats, in the worst-case scenario you interrupt and prevent criminal activity.
Plan Ahead
Security officers work in many different environments and are confronted with various scenarios. To be a competent security officer, you must have a plan for any emergency.
Role-play different scenarios. Think out of the box and imagine the smallest to the worst scenarios. Have a plan on how to deal with each of them.
A security officer's reaction time needs to be quick. It is vital that in every environment you take the time to:

Identify all the possible exits. Make sure they are identifiable and free from clutter.
Know all the necessary safety protocols.
Assess all the possible risks and have an emergency action plan prepared.

Be a team player, not a hero. Know your place in the team, and the vital role you play in it. Do not neglect your role in the pursuit of what appears more glamorous, this could have devastating consequences in an emergency.
Be unpredictable. Vary your patrol routine and route. Potential criminals usually first scout an area. If you patrol the same route at the same time every day, your area will be vulnerable.
Never Stop Learning
You will never know everything. An average security officer will assume they know everything there is to know, a great security officer will aim to learn something new every day. Don't be afraid to ask questions. Learn from others, never stop learning!
Prioritize Your Health
A security officer cannot afford to neglect their health. Your work may require long shifts, night shifts, or physically taxing situations. To be effective in any situation you need to ensure you are in tip-top shape.
You do this by:
Eating a healthy, well-balanced diet.
Exercising regularly.
Going to a doctor for annual physical examinations.
Inter State Security Corp, Everything You Need from A Security Company
Are you looking for experienced, trained, and licensed security officers for your premises or event? Look no further. Inter State Security Corp has been South Florida's trusted security company since 1985. We can be found on Facebook and contacted at: Broward 954-753-4700; ​​​​​​Miami Dade 305-949-1142; or​​​​​​ Palm Beach 561-782-1380.