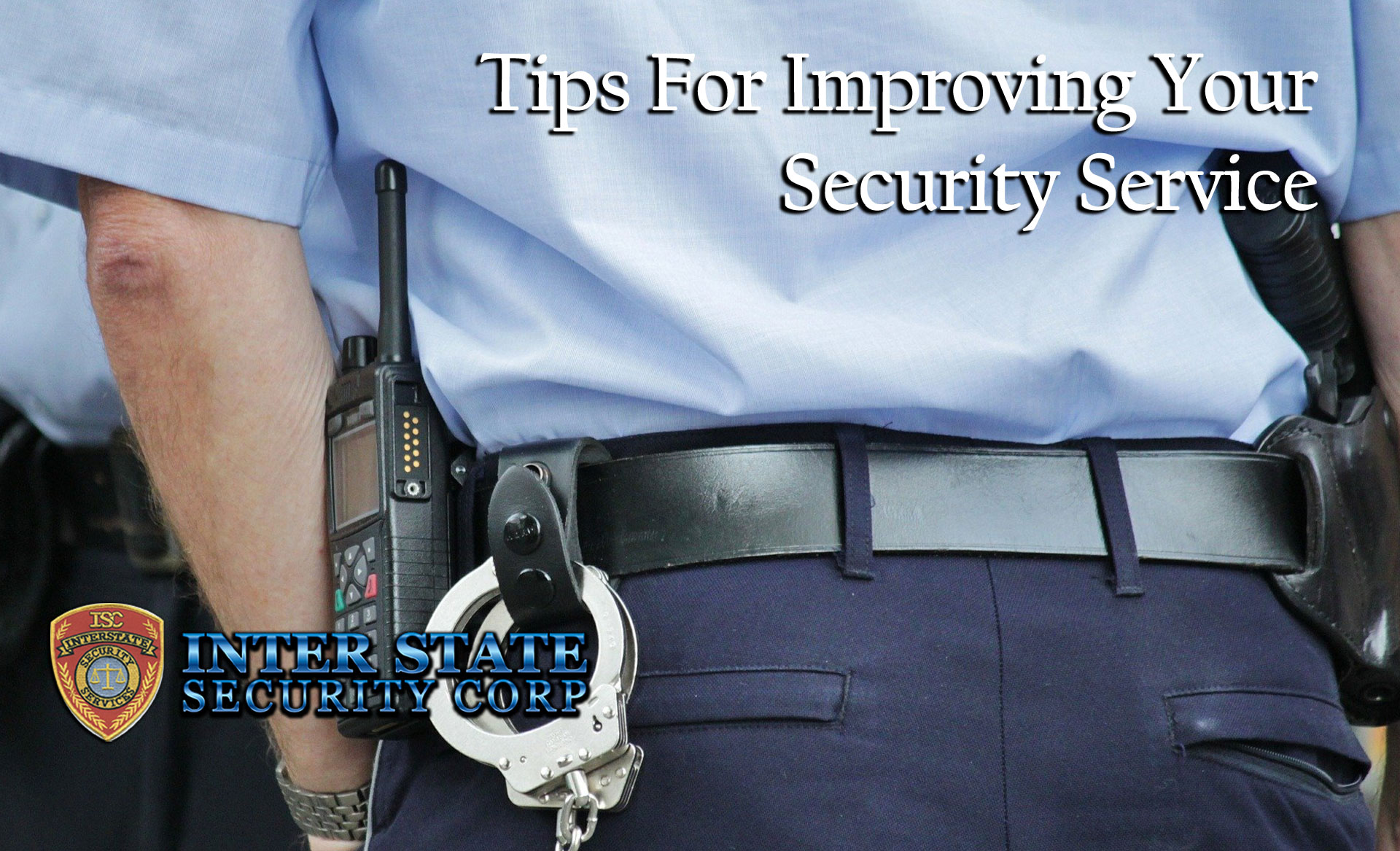 You want every part of your business to be safe and secure. Having a good security service is important. This means more than just security guards, it also includes security technology. In this article, you will learn about several tips for improving your security service.
Analyze Your Supervision System
It's necessary to have a contractor with good systems that allow you to oversee guards, which in return, helps to provide a good service.
Not having access to a system that helps you supervise your guards can lead to them having unprofessional behavior and actions when they know they're not being watched.
Supervision can be provided, like surprise spot checks with the help of field supervisors, guard check-ins, and even utilizing tracking systems.
Evaluate The Guards' Training
Chances are high that if you are not content with your security service, your security guards did not receive proper training. The first step to reconstructing your security guard service would be to analyze the training your contractor is supplying the
This orientation is known as Site Specific Training (SST) and it would be of use for you to look at the following:
Was the training done on my premises?
Who was the head of the training?
What was the duration of the training for each security guard?
Are there post orders that you can use for orientation?
To determine the answers to the said questions, sit in on a training session. You can better understand how the guards are being prepared to give service on your property.
It's important to keep your security guards informed and prepared for the worst-case scenarios, so good training is important.
Check Qualifications
In a majority of states, there is a required amount of training security guards must endure before earning their license. The best way to check the qualifications of security guards is to conduct interviews. You can find out if they would be a good match for you and your business' needs and you determine how qualified they are. If you aren't satisfied with a security guard during the interview process, you can most request a different individual.
Since 1985, Inter State Security Corp continues to be a trusted South Florida security company, so if you're looking for more specific security guard services, they offer plenty of types, like uniformed security, select security, undercover security, and more.
With plenty of options to choose from, you can have an easier time finding a security service that better fits your needs and meets the qualifications you're looking for.
Carry Out Inspections
When you have availability, make a stop over to your property unexpected. You can understand how well the security guards are performing their duties.
If you have some lingering doubts that some security guards are not on the same page as you, ask them if they have questions for you.
If your schedule is packed for a stretch of time, have an independent third-party inspection. Avoid electing a different security guard company because you could run the risk of results being biased.
Meet With Your Contractor
One of the easiest ways to enhance your security service is to meet with your contractor on a consistent basis. You can do this via phone call, video call, or in-person. The purpose of the meeting should be to offer the contractor constructive criticism about security guard performance.
Regular meetings can give your contractor clear guidelines of your expectations about security service. These meetings can also help the contractor determine the best ways to reach your expectations.
Security Service in Miami
These tips can not only help improve your security service, but it can also help it go a long way. Taking simple steps like meeting with your contractor or carrying out simple inspections can make a whole difference in the world.
Do you have more questions about security services? Check out our security tips blog, follow us on Facebook, or call Inter State Security Corp's different locations: Broward: (954) 753-4700 Palm Beach: (561) 732-1380 Miami-Dade: (305) 949-1142.