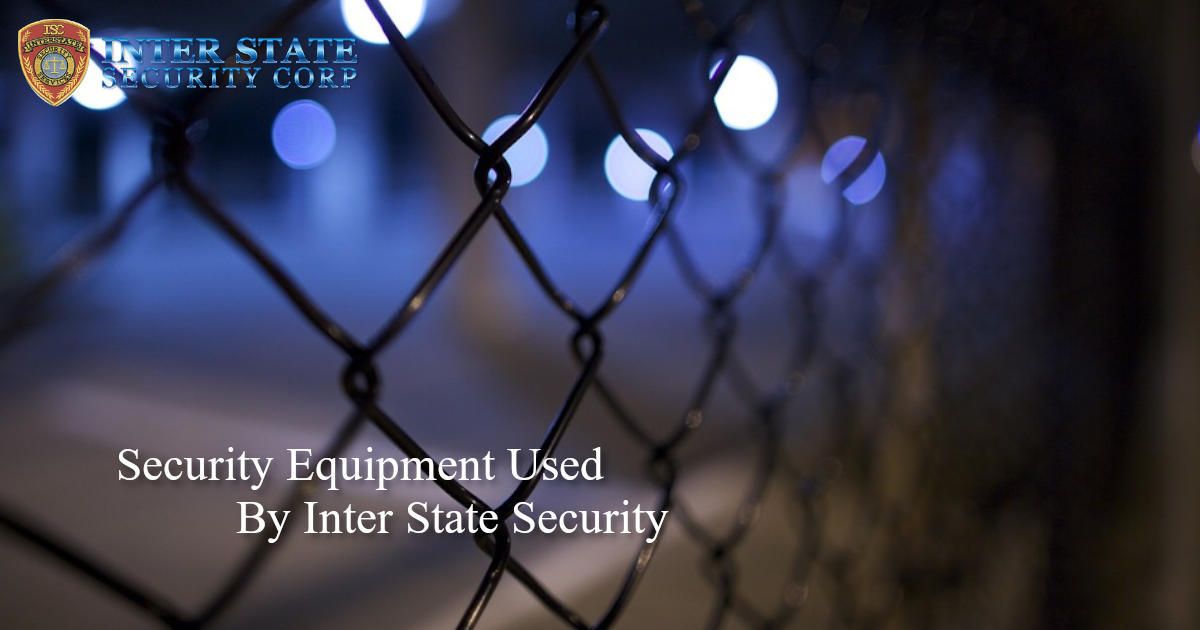 Security has always been a part of everyone's day to day life. Everyone wants to be able to feel safe, whether you're relaxing at home or if you're working at your place of business. Unfortunately, one can't be 100% safe without the help of security equipment or security personnel.
As security services and security equipment have evolved, there are multiple security options for you to choose from to suit your security needs to help deter criminals. Criminals are often like vipers, that enjoy lying in wait for the perfect moment to cause complete chaos and compromise your home's and businesses safety. Security equipment is gaining popularity as one of the most effective solutions to problems caused by potential criminals.
The Different Types Of Security Equipment
There are many different options when it comes to security equipment. At Inter State Security Corporation, we specialize in many different security options that we can customize to suit your specific needs. We offer a full range of security equipment from simple gate houses to hi-tech computer access systems. We take pride in knowing that we only offer the highest quality protection security equipment and services.
Below is a list of all the security equipment we offer.
Bar-code Readers
If your property needs a more substantial vehicle access system, our bar-code readers provide entry permission for 100,000 vehicles per property. They either grant or deny access to the property and records the data for you to look at.
Burglar Alarms
We offer both full service, residential and commercial burglar alarm installation. These can be monitored 24/7 by our professionals and can be adapted to suit most building types.
Camera Systems
Any top-quality security company will offer camera systems. Our camera systems utilize monitoring systems that can be spread through between 1 and 72 cameras. This provides a wide range of covered area that ensures maximum coverage and security.
Gate Arms
We offer a wide variety of different gate arms to suit you the best. From our Built-in battery backup power source, microprocessor control board, rust proof aluminum alloy chassis, molded polyethylene cover to our Soft start/ stop motion control, no limit switches, dynamic motor braking, LED input and diagnostic indicators, there are plenty for you to choose from.
Gate Computers
Our gate computers are unique to us at Inter State Security, if you are interested in acquiring one don't hesitate to ask one of our security professionals. This impressive system crushes any confusion that comes with gate entries.
As a resident or business owner, you are allowed to add several guests or staff onto your list. Once the security guard has all the relevant information, it will be saved on the system and then a pass will be printed for your guest. All information is saved onto the system. We also have an auto focus, high density, color camera that can read license plates when positioned correctly.
Golf Carts
Our 4-wheeled golf carts are equipped with rain gear, yellow beacons and of course taillights and headlights to make sure your security personnel have everything they need. At Inter State Security Corp, we will take care of any repairs or maintenance your golf cart may need.
Portable Gatehouses
Our gatehouses are designed for durability and comfort for your access control guards. They are made of either aluminum or steel and come equipped with air conditioning.
SOS System
SOS systems are the fore front of security. It allows you to know where and what your security patrol guards are doing at a certain time. This system helps you to feel secure and helps ease your mind when you can't watch your property.
Security Companies In South Florida
Security always plays an important part in everyone's lives. Whether you're a homeowner wanting to protect your family or business owner needing your employees, clients and products to be safe our first priority is to make sure you're feeling safe with the services we have provided. If you are interested in our professional security services, you can find out more by visiting our website or give us a call! Broward: 954-753-4700, Palm Beach: 561-732-1380, or Miami-Dade: 305-949-1142