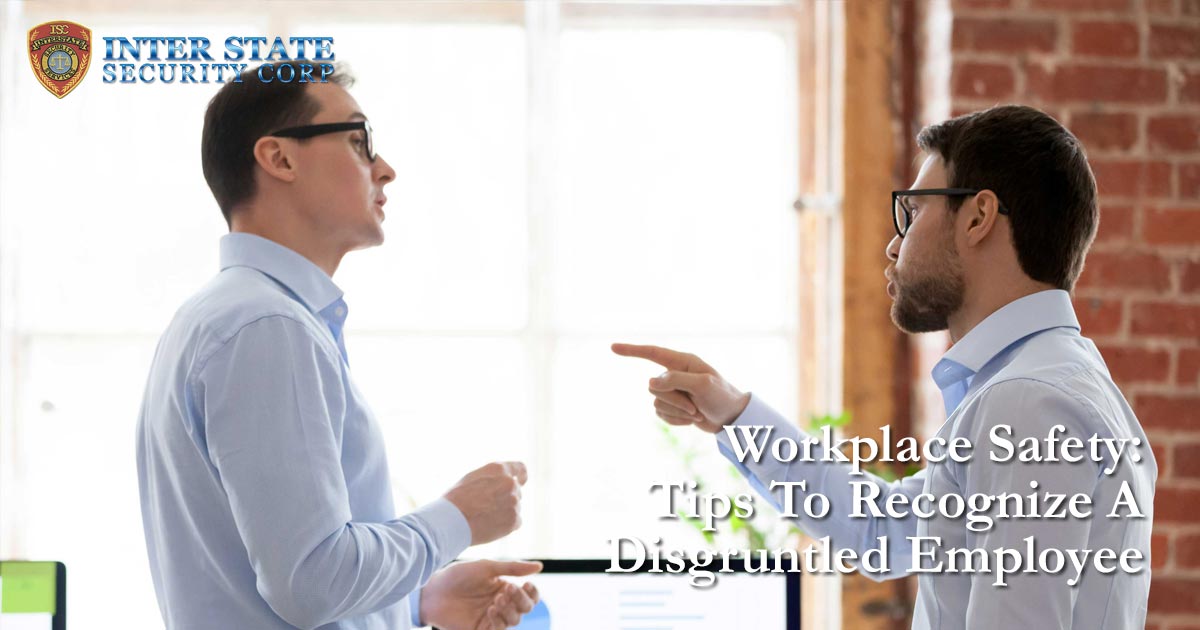 According to research by Gallup, 70% of employees are showing up to work uncommitted and disengaged. What's more, 18% of employees are actively working against their employers due to being so unhappy in the workplace. A disgruntled employee is more serious than you think, as although 18% might not seem like a lot, that one employee may affect the working ability of others around him/her, in turn negatively impacting the company itself as well as the workplace safety.
Behavioral Signs of an Unhappy Employee
It is important to recognize the signs of unhappy behavior as early as possible. If things go unnoticed for too long, an angry employee may act out in a hostile manner at any time, putting other employees at risk and potentially affecting the company's reputation. Look out for the following behavioral patterns:
Isolating Him/Herself

An employee that does not have any close relationships with his/her fellow colleagues is bound to feel isolated and unhappy. It is likely that this employee has had a fallout or an argument, or perhaps has never felt a part of the team from the beginning. Either way, isolation can leave a person feeling very unwanted and disconnected. Look out for an employee that seems unusually quiet and closed off, for example: avoiding participation in activities, ghosting calls, and excusing themselves from seeming absent.

Complete Lack of Motivation

Some employees avoid work to the point that it starts to become obvious. Look out for signs such as being late often, frequent absenteeism, taking too many breaks, not completing tasks on time or not making any effort to get involved. Take time to notice the routines that employees have, for example watch out for: number of breaks, the times that they arrive and leave, and the amount (if any) of overtime work that gets done.

Complaints From Other Employees

Complaining frequently to other employees about workloads, employers, etc. is an obvious sign to look out for. An unhappy employee will be frequently moody, so look out for patterns of unhappy behavior and whether certain complaints come up repeatedly. While this may not seem like anything serious, repetitive complaints means that there has been a build up of anger for quite some time, and so it is necessary to pay attention to the details, otherwise you may end up with an angry outburst later on, threatening the safety of others.

Passive Aggressive Behavior

Some employees might not be outwardly aggressive, and so negative emotions may emerge on a less obvious note. Signs of passive aggressive behavior are snide comments (or comments behind people's backs), being hostile, blaming others and avoiding confrontation. Here you need to look out for body language, as passive aggressive people often show signs of anger without lashing out or actively expressing their concerns. Look out for general upset behavior, such as frequent sighing, rolling eyes, avoiding eye contact and frowning (or a lack of smiling). Avoidance behavior is typical of passive aggressive people, for example avoiding employees that they don't like, not answering calls and leaving when others try to argue or confront them. This kind of behavior can lead it more intense passive aggressive actions, such as breaking or stealing belongings, vandalism or defacing the company.

Outwardly Aggressive Behavior

This is far more obvious band must not be taken lightly. For example, check who most frequently visits HR for complaints against other employees, and watch for those who frequently find themselves in the middle of big arguments. These arguments can turn violent, and any lashing out may require security and intervention. People who are outwardly aggressive have more chance of expressing their anger in dangerous ways, such as attempting a physical fight.
Remember, some employees can be naturally quite pessimistic, but not all of them start out that way and can progress to being very unhappy over time. Sometimes the changes in behavior are so slow or hidden that it isn't easy to notice a steady decline in happiness. It is important to monitor the patterns of behavior and work performance in employees, as some employees may be close to a breakdown without anyone knowing, especially if this employee isolates him/herself.
Looking after your employee's wellbeing is essential to preventing this kind of problem, but sometimes it is too late, and employers need to look toward security services for the sake of workplace safety. A general security presence can diffuse any potential problems, such as safeguarding against employee theft, preventing tardiness or threats, and keeping piece of mind in general. Inter State Security provides a variety of safety and security services that can provide both surveillance equipment and security officers for any of your security or safety needs.