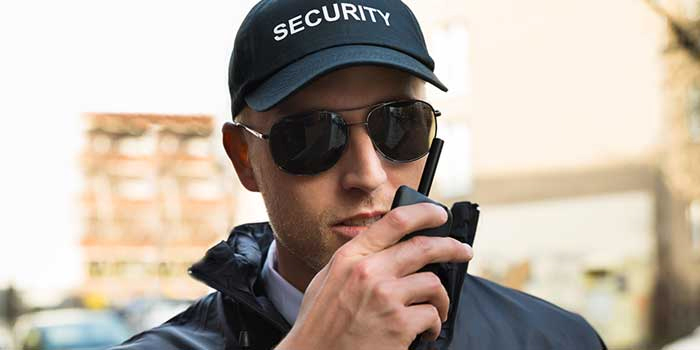 Property Advantages of Private Security Companies
Private security companies can offer many different services to protect you, your family or employees, and your assets. In this post, we'll look at some of the uses and advantages of having a private security company look after your property.
Skilled and Trained Security Guards
All security companies must provide professional training for their workers. This typically entails both a written test and a practical training component, resulting in a professional license or certification. Some companies even encourage their security personnel to complete a degree in criminal justice over a few years during their contract, so that they are as knowledgeable of the law as their police officer counterparts.
Depending on the requirements of the specific property or task to which they are deployed, security guards may also receive additional training – like first aid and CPR, for example.
Response Time
If you have a private security guard stationed at your property, you needn't worry about response time if an incident does occur. They can also question suspicious characters that are trespassing or lurking near the property – also minimizing response time and preventing a potential break-in or incident before it happens.
Deterrent
Simply having a uniformed guard stationed on your property can act as a deterrent for criminals and troublemakers. In the case of businesses, it can also dissuade employees from stealing if they know that someone is available to search them at any time.
Constant Monitoring
The constant presence of around-the-clock security can make business- and home-owners feel secure, knowing that they are protected at all hours. This is also an important feature for businesses that have their employees work late hours – you want your staff to feel safe while they work, or when they leave the property late at night.
Constant monitoring also means that your security guards are more likely to recognize suspicious persons or vehicles that are frequenting your streets without a valid reason.
Accountability and Peace of Mind
Security guards have to undergo a background check and get fingerprinted before they are issued their license. Some security companies may even submit their security guards to a polygraph (lie detector) test to ensure that their employees are not hiding any inappropriate history.
Furthermore, because maintaining a happy clientele is the bread and butter of any private security company, they are more likely to ensure quality service and effectively deal with complaints if they arise. As a private organization, the security company is accountable to you – their client – above all else.
Alarms and Other Services
Private security companies offer more than just security guards. In most cases, you'll want to opt for a security system that includes alarms and electronic monitoring services as well as guards on site.
For more information about what private security can do to protect your property, contact Inter State Security today.