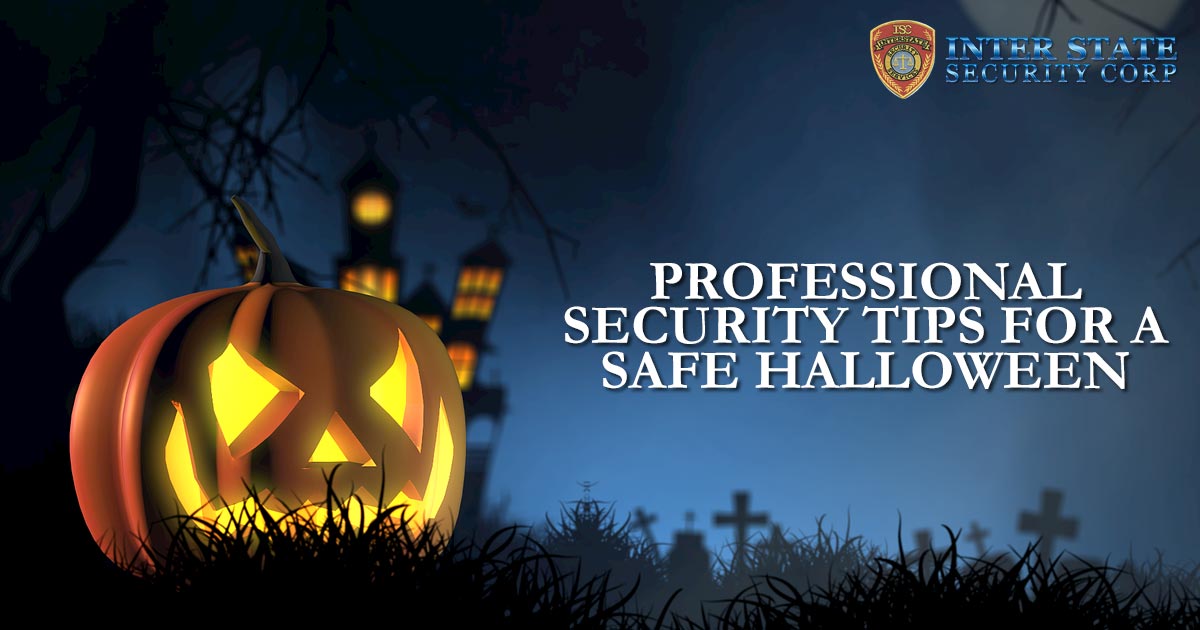 While Halloween can be fun, trick-or-treating time can be an opportunity for criminals to take their chances! This means Halloween can be a risk to your home and to your child. Darkness, crowds and masked faces are all you need for an easy crime, and Halloween unfortunately comes with all three. Despite the dangers, you do not want your child to be missing the fun, nor do you want your home to be at risk. Our professional security team have these Halloween safety tips to keep your family safe while having fun.
Halloween Safety Tips For Young Trick-Or-Treaters
Teach your child these safety checks and you can rest easy knowing that they are equipped and ready to face the world (with safety first in mind!).
Visibility

Keeping your child visible is one of the best ways to avoid him/her from getting lost, taken, or hit by a car. The more conspicuous, the better! This is because there is less opportunity for your child to go unnoticed (if a potential child snatcher or fast car comes his/her way). Unique costumes, reflective tape, glitter and lights – all of these can help to make your child stand out!

Choose Your Route Carefully

This falls under visibility as well. Make sure you pre-plan your path of trick or treating, and choose houses and streets that are well lit. It might be best to choose houses that are popular, and better still to choose houses of people you know well!

Safety In Numbers

Have your kids go trick or treating in a group. Make a 'buddy system' to ensure that each child holds the other accountable. In that way, everyone will have someone looking out for them. You can also create a 'location station': if your child gets lost, he/she has a designated location to walk to (so that the group knows where to look should anyone go missing). However, this should be a last resort – so make sure cellphones are on charge!

Candy Safety

Make sure that your child does not eat the candy straight away without looking at it first. Look out for unwrapped candy or any homemade treats from strangers, as you do not know what could be in them!

Memorize Emergency Contacts

It is helpful for your child to know who to call during an emergency, so double check that he/she has memorized your cellphone number. A clever idea would be to memorize multiple cellphone numbers if possible, such as a close friends/family.
Keep Your Home Safe During Halloween
Now that your child is safe and ready, the next step is to keep your house safe. You want your home to be risk -free from potential criminals or vandals, as there is more risk of a break in during Halloween due to the amount of distracting activity going on.
Hide Your Valuables

Lock up the house and ensure that valuables are put away. The only gateway you want to worry about is the main entrance for trick or treaters. If you are driving around, make sure there isn't any valuables in plain sight in your car, and be sure to have the doors locked!

Make Your Home A Hard Place To Hide

If you have a garden, it is a good idea to trim the leaves of your trees if they are overgrown. This is because large, bushy trees make excellent potential hidey holes. If you have garden lights or outside lights, make sure to leave those on (whether you are away from home or not during Halloween, visibility will minimize the chance of a break in, as criminals do not want to be in the spotlight).

Make Use Of Security System

If you do not have any home security system, it is time to get one! Some good preventative measures are security cameras, trespasser beams and alarms. Also, be sure to make an updated list of emergency contacts (It is best to leave this list in a visible and accessible place – for example, you could stick it on the fridge door using a magnet).

Prevent Entry

If you are handing out candy to children, try to set up the candy station outside of your front door to prevent them from coming inside. While children often harmlessly want to look inside for decorations, there are sometimes suspicious people pretending to be children, and you do not want them coming in! Put your decorations outside, and make sure that there are no decorations visible on the inside of your house. In this way, you can make a clear message that you do not have anything to offer beyond your door.

Do Not Be Hesitant To Report Suspicious Behavior!

IF you see any suspicious activity, do not be afraid to report it – even if you are not entirely sure. It is not easy to decipher suspicious persons from trick-or-treating children if they are all disguised in different costumes. It is better to prevent a situation than to recover from one!
Now you and your child can be well prepared for Halloween! If you would to inquire about security alarm systems and other home safety or security measures, contact Inter State Security for more information. You can never be too safe!