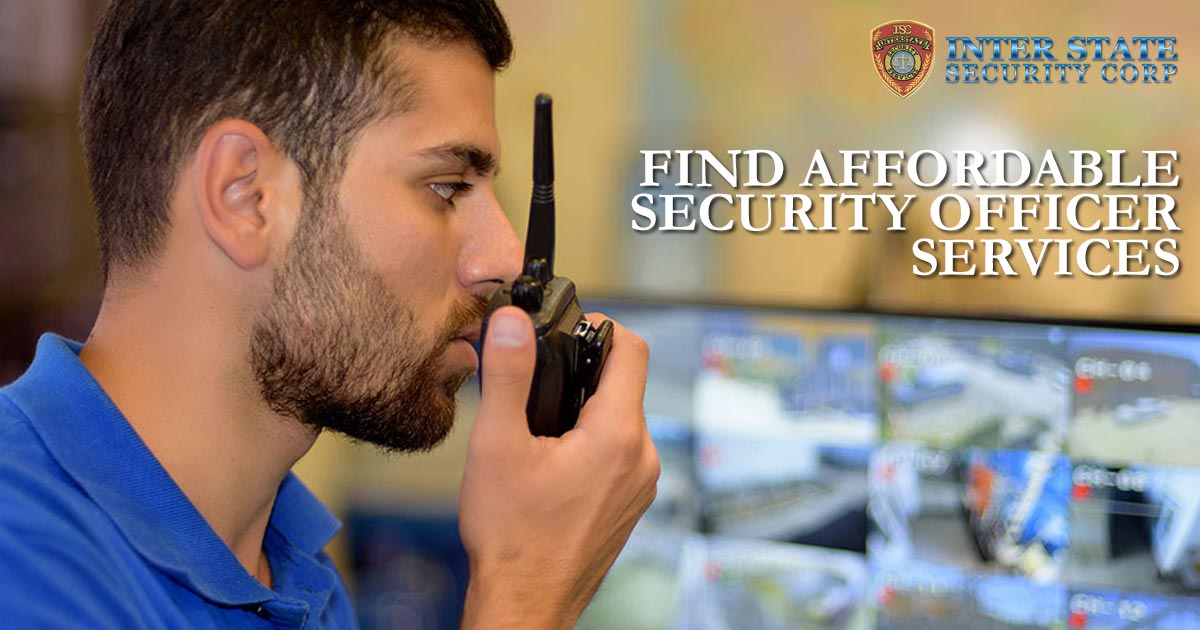 How do you compare quality and cost among the different service providers, if you don't even know where to begin? Luckily for you, we have a step-by-step guide on how to find a trustworthy and affordable security officer services.
What Kind of Security Services Am I Looking For?
This article focuses on two main aspects of security services: cost and quality. Finding a balance between the two? That can get tricky. First you need to know what you're looking for before you start, and that is where you have to assess your needs:
What Kind Of Security Officers Do I Need?

From uniformed officers to casual concierge, there are multiple types of security officers to choose from. You need to familiarize yourself with the different security services offered, so first you must assess what your property/company needs in terms of security. Do you need visible security, or undercover security? How many officers are needed/ recommended? Are there patrol vehicles involved? These are the questions you should be asking when contacting a reputable security service company.

How Long Will My Contract Be?

This can dramatically alter the relationship with your contractor. Prices will change according to contract type, and even the quality of service can decrease over time if the contractor is not consistent. It is important to compare the different pros and cons that different contracts have, as well as assess how long your contract should be.

How Much Am I Willing To Spend?

Determine a budget that you are willing to spend on security. Some companies value quality service over cost, while others don't have the choice – it is up to you on what you will prioritize.
Cost vs Quality: What To Look For When Comparing Different Security Companies
Cost

Most security officers fall under the more affordable range of security, as they are not the type of security guard to interfere with fights. Security officers are normally used to detect, deter and report instances of suspicious activity, and so their job is to be a preventative measure. However, there are different kinds of officers, and the cost will depend on the level of protection and the kind of officer chosen. For example, if your security officers are armed, they will cost more than unarmed security officers. The cost will depend on a number of things, such as the number of officers hired and the length and number of shifts.

Make sure to ask as many questions as possible regarding the different officers, contracts and service packages offered. Costs can differ greatly among companies, as well as within companies when looking at the type and length of contract. Making a thorough inspection of multiple companies means you can rest easy knowing you made a well-informed decision.

Quality

While cost is important, it should not be the only priority. Looking for a quality and trustworthy security company can make the difference between successful security and a completely waste of time (and money!). Below is a list of aspects that a good security company should have:

Commitment And Consistency

A good security company will want to maintain a long-term relationship, and so consistently good service is necessary. Check if the company has any procedures to ensure consistency of good work. For example, Inter State Security performs random checkups on its own security officers to ensure that they are always on top form. These undercover quality tests are an effective way to keep employees on their toes – so be sure to inquire whether your potential security company performs regular checks (or something similar) on their employees.

Qualifications, Certifications And Training

There is no good hiring a security officer if he/she has a qualification but has no idea how to deter potentially dangerous people. Check with the company on all their qualifications, and be sure to ask lots of questions on the qualification procedure. For example, you could ask: Does each security officer have their own certificate/qualification? Is your security company licensed and qualified to train people? What sort of qualifications are there? What skills are needed to pass, and how do your employees train? These questions will give you good insight on the experience and level of security officer services offered.

Honesty And Openness

Openness and honesty go hand in hand; openness means that they are more honest than those who avoid giving away too much information. This is where your observation skills come in. If you are visiting a security company, pay attention to what they say and what is on display. Do they have all their certificates and qualifications on display? Do they explain their security officer services in detail? What's more, you can check out their website to see if they have any forms of customer service rating. For example, security service reviews allow you to see what customers have to say about their services!

Specific To Different Needs

If you feel that a company is persistently trying to sell a contract that does not suit you, the company probably cannot cater for you if they do not inquire about your specific needs. You want to see if the company is interested in the customer's needs, not their money! Have they inquired a lot about your needs specifically? Are they offering appropriate services? The more they ask the better for you, as this shows that they are trying to prioritize your needs.

Managerial Presence

Who is holding who accountable? A manager that is visible means a proactive company that is well connected. With a company that works in security, you cannot be slacking on your job, and so managerial presence is vital to keep everything in working order. Ask about the manager or person in charge, and ask about their duties. Pay attention to the answers; the more he/she has to say about employee management, the better!
Now that you have an idea of where to begin, why not begin with Inter State Security? We are a fully licensed security company based in Florida, and we offer a range of security officer services. Try out this checklist on us!