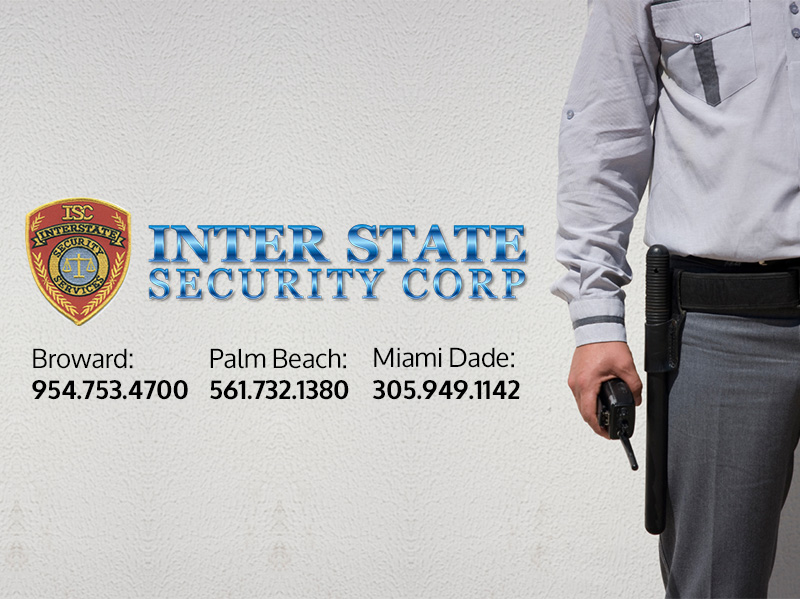 When looking to add security guards to your property it is important to know that not all private security companies are created equal. Always go with a company that has a solid reputation and has experience providing several different types of security services.
Inter State Security has been providing security services in South Florida for close to four decades. We are one of the top private security companies in the State and we offer several types of security guard services. These services include uniformed and plainclothes guards, and uniformed concierge. In addition, we offer both marked and unmarked patrol services when you want alert eyes and ears securing all areas of your community.
Another service that we offer, and that may not be provided by other private security companies, is undercover security. Our trained undercover officers can be used when investigating inside jobs, such as employee-involved theft.
Private security companies should also offer any equipment that is needed in the building and/or community. We offer gate computers as well as camera systems so that a property has all it needs to be safe and secure. We also offer golf carts, which we maintain and repair, as well as gate arms and portable guardhouses.
Private security companies should do all they can to make sure a property is safe and secure. That means offering a wide variety of knowledgeable and well-trained guard services, security services equipment that is reliable, and trustworthy, outstanding service that will make you glad you opted to go with that company. Inter State Security offers it all.
Do not let other private security companies fool you. They are not all the same and they do not all offer the same services. Inter State Security has built its reputation over decades of responsible and diligent service. We are looking forward to providing security services to you.