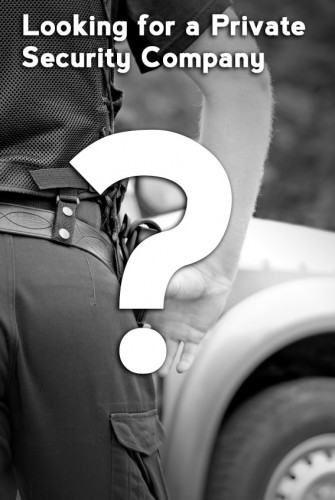 There are many private security companies out there which cover almost every security need imaginable. So when it comes to deciding which private Security Company is right for you, we at Inter State Security Corp can give you a few things to think about and look out for.
Your private security company should be molded to your specific security concerns or needs. First you have to ask yourself what level of security you are looking for. Whether it be a formal uniformed officer for your commercial property or business premises or a plainclothes security officer for the relaxed atmosphere of your community, your private security company should be able to accommodate you in every possible way. A private security company such as Inter State Security Corp which offer a wide range of services and high quality equipment means that you will always have the right man, and tools, for the job.
A good private security company should also offer other services which may not necessarily be considered primarily as a security service. Concierge  services are always a good option for a private security company as their main objective should be aiding you in a time of need. A private security company like Inter State Security Corp offer these services and many more so that your safety and wellbeing are never compromised.
Your private security company should always have the most up-to-date technology and equipment in order to stay one step ahead of any security issues. Even though this equipment may often be an extra cost, it is definitely worth it in those times of need. Also, if your private security company has the option for extra add-ons and equipment, it does not necessarily mean that you have to have them or pay for them – however, the option for more is always a good idea.
Last, but not least, a private security company with excellent customer service is top priority. You want to be able to communicate your needs and concerns with the people who are there to protect you and your assets. If you are ever in doubt as to whether a private security company is right for you, set up a consultation to meet and speak with the people offering you their services. Not only will you be able to find out more about the company and their services but you will be able to interact with the people who you will have to deal with when it comes to hiring them as your private security company. As a private security company, Inter State Security Corp wants to offer you the best possible service as well as the best security experience.