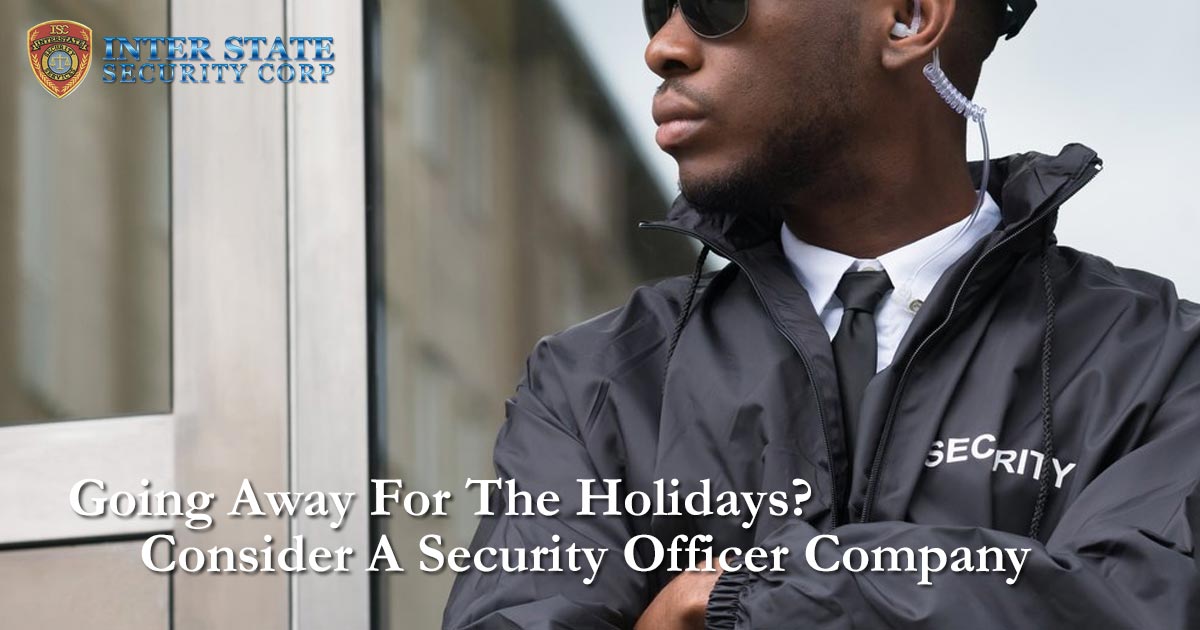 You've finally got the opportunity to take that break your family has been waiting for and you're preparing for an exciting holiday. Your only concern at this stage is that you're not comfortable leaving your home unattended for so long. That's where a security officer company like Inter State Security becomes useful.
You may think it's extreme to hire a security company to monitor your property while you're away but the truth is, thieves are becoming more sophisticated in their criminal activities and a vacant home over an extended period of time is exactly the kind of target they're looking for.
What Is A Security Officer Company?
Companies like Inter State Security offer a variety of security personnel services such as:
Uniformed and plainclothes security
Concierge security services
Marked and unmarked patrol security
Security consulting
Apart from offering security staff, these companies also supply security equipment such as computer systems, DVR Camera systems, alarms, traffic devices, and entry systems. Staff can be hired to protect private property, entry points at events, building entry and school security. Increased technology has given rise to smart security services like remote and central monitoring which has proven beneficial to many homeowners.
What Are The Benefits Of Hiring A Security Officer Company For My Home?
Thieves and vandals are constantly on the lookout for a good opportunity like a vacant home without any security or protection. These are the homes that are likely to be targeted by thieves and burglars. Home watch security officers create a round-the-clock security presence for your property. This acts as a deterrent for the opportunists.
If you have security equipment installed such as CCTV cameras or motion sensor lights, a security company will ensure these are functioning properly and address any problems should they be faulty. While having security equipment is necessary, it is also predictable and can be interfered with. Security officers' routes can be unpredictable and untracked by criminals. Security is trained to recognize hazardous situations and security risks before they become a danger to your home.
Another benefit to hiring a service like this is that you can receive regular updates about the state of your property which gives you peace of mind that everything is under control and that your home is being looked after. Inter State Security offers marked patrol cars as well as unmarked patrol cars to keep an eye on things. Security cars and security officers are often mistaken for the police which is a massive deterrent in itself.
Squatters are a big concern when it comes to vacant homes. In some cases, these intruders are not always thieves but merely looking for a vacant home to enjoy for a while. Security officers have the power to arrest trespassers while waiting for authorities and then hand them into custody. Because they are not actual officers of the law, this is considered a private person's arrest. The benefit of this that they are not limited to only surveillance.
Security Services In Miami-Dade, Broward, and Palm Beach Counties
You may be thinking that this an added cost to your planned vacation and that perhaps you can do without it, but the reality is that crime is all around us.
At the end of the day, you'll save yourself more money by taking preventative action as opposed to reactive action like having to replace the contents of your home due to theft or recovering from vandals. An obviously vacant home attracts all the wrong type of activity, but this shouldn't be a reason not to enjoy your holiday.
By hiring professionally trained security to monitor your home while you're away, you know that your home is being taken care of. This prevents you from returning home to any nasty surprises. Every family has different needs and requirements so don't hesitate to request a consultation to discuss what options are best for your home.