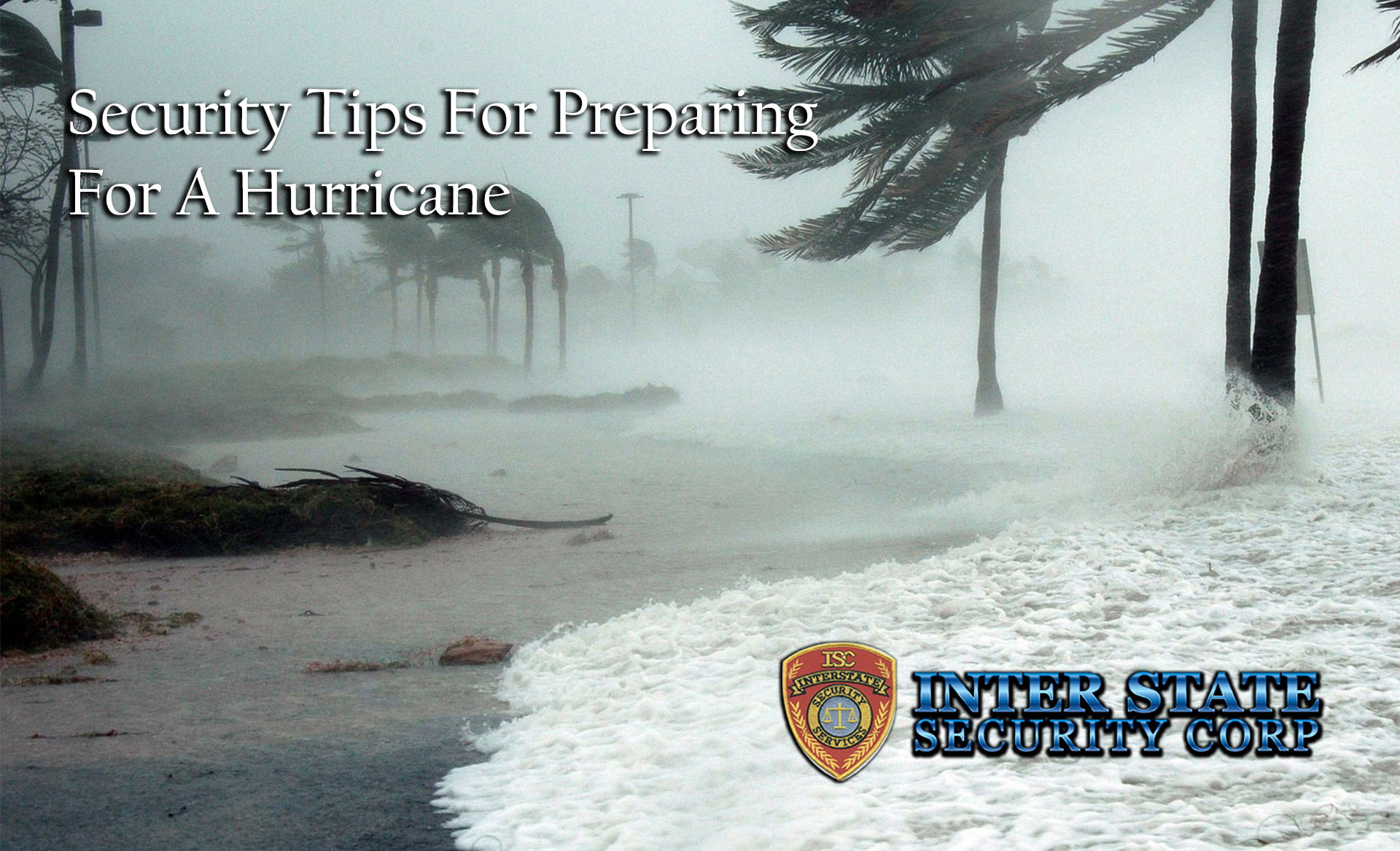 South Florida residents and property owners understand the benefits to living in the Sunshine State with its green landscape and tropical coastline. There is however a downside to life in paradise with its annual rain and hurricane season from June – November. Residents may ask, what if there's an approaching storm or hurricane? How do I safeguard my property if I'm out of town or we have to evacuate? What security precautions do I need to take?
This is where Inter State Security Corp. steps in. As a licensed and bonded Florida security firm, we provide exceptional security service to our residential and commercial clients. In this article, we'll discuss security tips when preparing for a hurricane.
Inter State Security provides clients with secure on-site presence. This deters criminal activity and potential looting after a storm. Our unarmed and uniformed security team are expertly trained, licensed, and bonded with Florida state. All Inter State staff are vetted through comprehensive screening, application, and assessment of your neighborhood and surrounding area prior to being scheduled on-site. Our staffing and patrol services can be tailored to private residences, condos, HOAs, industrial and commercial spaces.
Home Security Tips
Below we discuss some of the most important security precautions you should take in preparation of a major storm or hurricane.
Have An Evacuation Plan
You may have to evacuate quickly due to a hurricane. Having an evacuation plan is key your safety. Questions you should be asking when creating an evacuation plan are:
Where will I get emergency alerts and warnings?
What is my evacuation route?
What is my shelter plan? Are there shelters close by?
How do I plan to communicate with the family/household?
Do I have everything I need in my emergency preparedness kit?
What is the plan for my pets?
Board & Shutter Windows & Doors
When preparing for evacuation, secure storm windows and board up for an additional layer of impact and entry protection.
Shut Off The Main Water & HVAC System
In the event of a mandatory evacuation, it's advised that you turn off the main water emergency shut-off valve prior to the storm. This helps minimize water damage if a pipe were to burst inside.
Additionally, to protect your HVAC system, you should switch the unit off at the main circuit breaker and leave it off until the hurricane passes. This also helps minimize potential damage.
Have A Generator Back-up
If possible, keep a generator on-site in case of an extended power outage. There are countless options when choosing a generator for your space. Getting the right one depends on several factors like your budget, what you need powered, and the size of your home or building.
Always Have An Updated Emergency Preparedness Kit
Having an up-to-date emergency kit is paramount to weathering a hurricane. Remember to include the following into your emergency preparedness kit:
Clean water (one gallon per person per day)
Non-Perishable Food (at least a three day supply)
Battery-powered flashlights and lights
Battery-powered radio
First aid kit
Extra batteries
Wireless chargers for cellphones, laptops, and tablets
A whistle (to signal for help)
Garbage pages, toilet paper, moist towelettes
Wrench of pliers (to turn off utilities)
Can opener​​​​​​
Prescription medications
Extra water and food for any pets
Cash or traveler's checks
Important documents (insurance policies, bank information, and ID)​​​​​​
Change of clothes
Personal hygiene items
Blankets
Books, games, and puzzles for children
Year-Round On-Site Security With Inter State Security
Coordinate your emergency plan with Inter State Security when you, your family, tenants, or employees plan to evacuate. Depending on your needs, we'll provide continuous on-site patrol and real-time assessment. We'll keep you informed and updated of a weather event that could leave your property vulnerable.
We also work in tandem with local law enforcement and provide 24/7 dispatch support in all three major South Florida counties:
Broward: (954) 753-4700
Palm Beach: (561) 732-1380
Miami-Dade: (305) 949-1142
Other Security Services Offered By Inter State Security Corp
Inter State Security Corp. offers a variety of security options from video to controlled gate entry, portable gate houses for your security team, alarm, and SOS systems. We provide the most up-to-date security technology and remote, real-time integration for communicating with clients and property managers.
Our function is to observe, report, and deter in any situation. During a weather event individuals can see an opportunity to breach a property. As a community prepares for a storm tensions and anxiety can run high. We're there to provide a deterrent to potential intruders, maintain safety and order. In the event of an incident and you're out of town, we contact law enforcement and you immediately.
Our patrol staff maintain a storm security protocol while on-site. This includes being the site contact to direct residents, grounds staff, and first responders. Whether you're out of town or on-site, we provide our clients with peace of mind and support they need.
Be Ready This Hurricane Season! Get A Free Security Consultation
Inter State Security Corp. provides free consultation to commercial and residential property owners in Broward, Palm Beach, and Miami-Dade counties. We create a customized security plan and protocol for special events, commercial properties, HOAs, condominiums and private residences.
Note! Inter State Security staff re uniformed are unarmed and are not permitted to engage physically or arrest potential intruders. Our staff's role is to be a visual deterrent on-site for our clients, providing you with peace of mind and presence.
While the current hurricane season has begun, it's smart to be proactive and have a comprehensive plan in place in the event of a storm or significant weather event. Be prepared and contact Inter State Security Corp. today for your free consultation. If you'd like to know more, read testimonials from our clients.