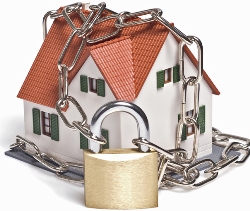 Securing your home while on vacation is an easy but often overlooked necessity. In today's world being on the offensive when it comes to securing your home is essential, making sure you have done all you can to protect your valuables is something not to be overlooked.
During all the years I've been in the security industry, I have seen many preventable burglaries. These tips will help you avoid becoming the next victim.
Get an Alam System
The most effective theft deterrent in securing your home is an alarm system. Make the investment and get a good system. There are several companies offering installation but make sure you get a system that covers your whole home, also it is important to have it monitored. Having an unmonitored alarm system is like having a car with no gas, that certainly wont help in securing your home. There are very affordable camera systems available on the market as well. All these systems can be accessed from you smart phone. Remember, quality does matter.
Neighbors can help
Make sure a neighbor picks up newspapers and mail. Believe it or not, thieves drive around looking into mailboxes to see if the box is stuffed. If the box has 3 or 4 days' worth of mail in it, chances are you're not home.
If you leave your car in the garage, ask a neighbor to park in your driveway during your vacation. This simple little action gives the illusion someone is home. Also, ask them to park on different sides of the driveway each day as well.
Go to your local home improvement store and buy 2 or 3 light timers. This is another inexpensive way to give the illusion someone is in the home. Today's technology has wireless digital timers for relatively low costs. Put a timer in different rooms to come on and off at different times. Make sure to inform a neighbor of the rooms where lights are going to be on and off. Timers range from $4.00-$50.00.
It's the small things that count
Remove your smaller valuables such as jewelry, cash and firearms. Most burglars are looking for the small items to put in a pillow case and leave. If you remove the most valuable items you have lessened your losses. X-Boxes, games, TV's DVD players etc are all replaceable, but grandma's diamond ring isn't.
Some people have put up hurricane shutters when leaving on vacation thinking this will keep burglars out. This is the worst thing you could possibly do. If a thieve gets inside, they have unlimited time to rob your house with no one seeing or bothering them.
LOCK your doors and windows. Many, many times people have forgotten to lock their doors and burglars just walk in.
Hopefully if you follow some of these simple tips, you won't become a statistic. Please be safe and enjoy your vacation.
Inter State Security Corporation