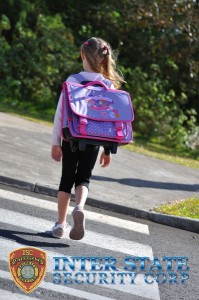 There are many Private Security Companies in Florida which offer their services to protect their communities. However, one of the most vulnerable communities in our society is the youth and their schools. What with gun and safety laws for schools being questioned and state bills such as the Pop Tart Gun Bill and Bill 968 coming closer to being passed, Inter State Security Corp want to discuss the topic of private security companies for schools and how they may come into play.
Inter State Security Corp offer unarmed and high quality security services for many industries including schools. Through our high level of rigorous professional training, our security staff are able to asses possible security risks before they become a reality and can protect your children without needing to resort to armed security. Many people believe that by exposing their children to guns through their role models (such as their teachers) they are not providing a safe or realistic view of the world and may be promoting possibly dangerous ideals to the impressionable minds of the youth.
While we don't disregard the ability of others to do a good job of protecting your children, we do believe that teachers are more effective in being good role models for your children through their skill of education. While our unarmed security guards protect the safety of your kids from outside threats, your teachers are left to do what they do best. Also, our security services offer a safer form of protection through unarmed guards. So instead of promoting gun violence in youths we aim to protect and prevent dangerous events from possibly occurring in the first place. There have also been instances where armed security at a school has not prevented tragedies from taking place. So instead of attempting to stop an attacker who is already a threat within the school, our security guards are able to thwart assailants from entering the premises or to take down the attacker through less violent means.
So even though every person will have a different view on armed and unarmed security, we at Inter State Security offer some of the most highly trained professionals to help keep your school and children safe from harm to suit any needs. If you have any queries, please feel free to give us a call and we will organise a consultation regarding security services for schools.